Real estate developers petition Government to relax foreign ownership restrictions
Son Nguyen
Monday |

09/07/2020 10:11
---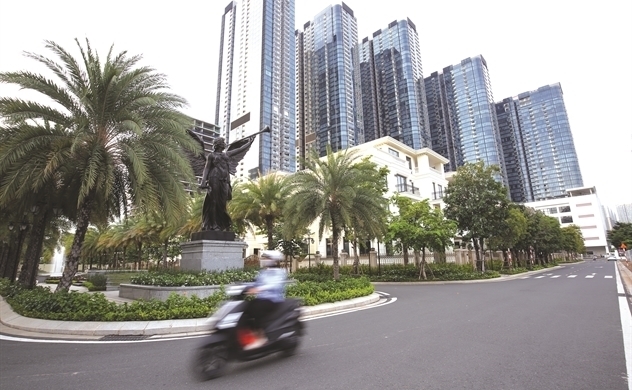 Photo: Quy Hoa
Real estate developers are proposing the government to eases existing limits on foreign ownership to increase the liquidity of the market which has been badly hit by pandemic.
The industry insiders advise that foreign ownership cap of 30 percent in an apartment project limits developers' ability to meet rising demand from foreigners. Developers and associations have petitioned the government to ease the limit to back the market which has been coming under the pandemic since the beginning of the year.
The Vietnam Real Estate Brokerage Association asked the Government to increase the foreign ownership limit at high-class housing projects. Inventories of the segment remain high while demands for this segment of domestic customers are limited.
If the foreign ownership ratio at the high-end projects is expanded, it will contribute to increasing liquidity and reducing inventory in the real estate market. Meanwhile, the Ministry of Construction has proposed the government to allow foreign organizations and individuals to buy and own tourist properties in Vietnam.
Currently, foreigners can buy up to 30 percent in an apartment project, while the ratio at house and villa projects is allowed at 10%. Foreigners can own the properties in 50 years and it can be extended for another 50 years.
"The State needs to consider to issue favorable policies and simplify administration procedures for foreigners to buy and sell real estate", said Mr. Nguyen Khanh Duy, Director of Housing Business Division of Savills Vietnam.
Currently, the number of properties sold to foreigners remains low. In the five years, between 2015 and 2020, about 17 major real estate developers in Vietnam sold 12,335 apartments to foreigners, according to a research by the Ho Chi Minh City Real Estate Association.
Most of the foreign buyers are Chinese, Korean, Japanese, Taiwanese, and Singaporean. Generally, in the past 5 years, about 14,800-16,000 houses and apartments were sold to foreigners. Meanwhile, the data from the Ministry of Construction shows that the market supply is 5 years is about 787,000 units.
"Several foreigners have demands of accommodation in Vietnam, but most of them choose to rent apartments to avoid tax. According to regulation, foreigners who stay permanently more than 180 days per year have to pay personal income tax, HoREA Chairman Le Hoang Chau said.
In terms of market prospects, 2020 is considered as an unusual year due to the impact of the pandemic. In the long term, the market potential is still promising thanks to the stable economic growth.
Vietnam is still among a few countries that maintain a relatively high growth rate. It can be affirmed that besides gold investment, real estate has been and will be the safest and most effective investment channel. The Covid-19 pandemic will continue until the end of 2020, but the real estate market will soon recover and thrive in the next period of 2021-2022, thanks to the great and timely determination of the Government said Neil MacGregor, General Director of Savills Vietnam.
Same category news
Hot news of the day