Policy changes required to provide a boost to property sector
VNA
Wednesday |

11/15/2023 23:30
---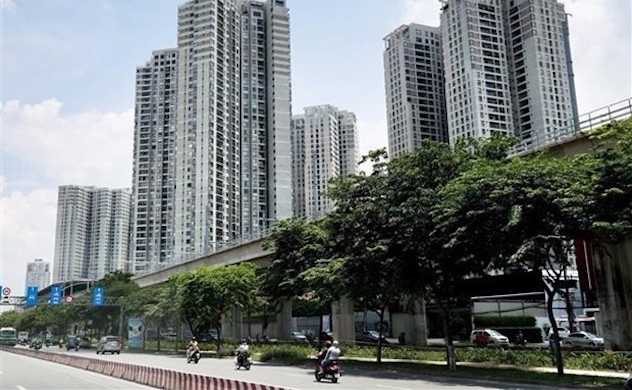 Photo by VNA.
The government considers the property market an important pillar of the economy and measures are underway to address the sector's difficulties in recent years.
Governor of the State Bank of Vietnam (SBV) Nguyen Thi Hong said the sector remained a key economic driver as it's closely tied to many other industries, making it one of the top priorities for Vietnam's policymakers. 
Ha Thu Giang, head of the credit department at the SBV, said by September 30 the total amount of credit outstanding in the sector had reached 2.74 quadrillion VND, an increase of 6.04% since the end of 2022 and accounting for 21.46% of the entire economy's credit outstanding.
Giang said during the first nine months of 2023, the sector's credit had shown a higher growth rate compared to the same period last year, reaching 21.86%. This had been the result of a coordinated effort by various governmental agencies and local authorities to identify and resolve the sector's obstacles and challenges. 
For example, she said a lending programme to support housing under Governmental Resolution 02 had disbursed nearly 30,000 trillion VND to more than 53,000 households and individuals. 
In addition, the Social Policy Bank of Vietnam (VBSP) had introduced 5 different loan programmes related to the property market at a total amount of over 27 trillion VND to nearly a quarter of a million customers. 
Meanwhile, BIDV and Agribank, among some of the largest commercial banks in Vietnam, had signed various credit agreements to finance three projects with a disbursement of 105 billion VND to eligible projects in 22 local authorities nationwide.
Difficulties and challenges for the sector, however, would remain for the foreseeable future, said the governor. 
Economists and industry insiders have long voiced their concerns over a number of issues faced by the sector including lengthy legal procedures related to land clearance and acquisition, supply and demand mismatch, weakening purchasing power and limited finance and management capacity on the part of property businesses. 
In particular, economists said there had been an oversupply of high-end apartments and villas, contributing to high property prices that had been largely out of reach for middle-income buyers. 
To make matters worse, developers often overly relied on loans, bonds and deposits from future home buyers, sending prices even higher. 
The sector had also been struggling with bad debt in recent years with a ratio of 2.89% by the end of September, a sharp increase from the same figure recorded at the end of 2022 at 1.72%. There had been a significant downward trend among bank customers applying for home-buying loans compared to the last few years. 
Speaking at the conference, industry insiders called for larger credit room for the sector, lower interest rates and easier access to capital. 
Nguyen Van Cuong, Vice Chairman of Hung Thinh Group, said even after his group managed to reach an agreement with LPBank for a credit limit of 5 trillion VND, the bank soon exhausted its lending room after disbursing just over 2 trillion VND.
He called for easier lending conditions and extended credit by the banks to prolonged projects in order to give businesses more breathing room in these difficult times. 
Le Hoang Chau, Chairman of the HCM City Real Estate Association (HoREA), urged the SBV to allow for slightly loosened loan conditions for developers, investors and homebuyers.
According to the association, the current conditions set out under Article 7 of Circular 39/2016/TT-NHNN (SBV) have remained unchanged since 2016 and, given the current conditions of the property market today should be reviewed and potentially adjusted to grant easier access to credit.
Source: Vietnamplus