Novaland to settle bond debt using luxury property assets
VNA
Thursday |

11/16/2023 18:00
---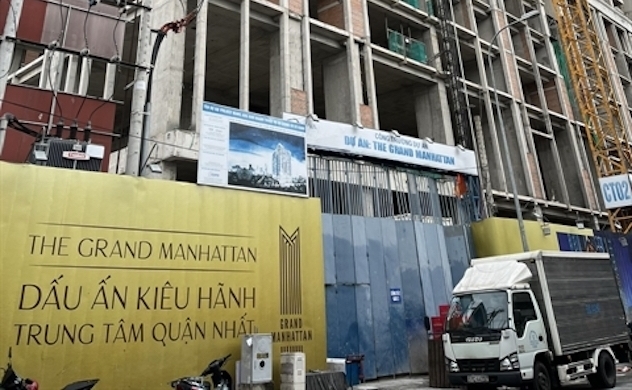 Photo by VNS.
Novaland, the second largest property firm in Vietnam, has proposed utilising properties from a luxury development in downtown HCM City to pay off the principal and interest on three bond lots.
The company, in a letter sent to the bondholders of the NVLH2123009, NVLH2123014, NVLH2224006 bond lots, announced its intention to use assets from The Grand Manhattan project in District 1 to settle the outstanding debt.
To date, Novaland has overdue payments for the NVLH2123009 and NVLH2123014 bond lots, which were due in February and May, respectively.
The remaining value of these two bond lots is over VND1.58 trillion.
The value of the NVLH2224006 lot, valued at VND1.5 trillion, has been extended for an additional two years until March 2026.
For the past several months, the company has made several repayments of principal and interest to creditors using real estate assets.
Novaland said the company is fully committed to fulfilling its obligations and commitments to its bondholders.
It has proposed a plan to use real estate assets, including from projects such as Novaworld Phan Thiet in Binh Thuan Province and The Grand Manhattan in HCM City.
Bondholders will be allowed to choose the units and locations in the remaining inventory of the projects and will enjoy preferential selling prices and applicable services at different times, it said.
The Grand Manhattan, located in District 1 and built on a 14,000sq.m plot of land, features three 38-story blocks with apartments sold for over VND100 million per square metre.
The company just resumed the luxury project after facing a halt at the end of 2022.
Amid prior losses, Novaland's third-quarter after-tax profit was over VND136 billion, marking a return to profit for the company.
However, the firm still faces challenges as its total consolidated revenue reached more than VND2.73 trillion in the first nine months, but its loss was over VND950 billion.
Its total debt to be repaid is over VND205.46 trillion, a 3.5 per cent decrease from the previous quarter.
Since the beginning of 2023, property developers and other companies have been seeking to negotiate with bondholders to extend bond redemption dates amid a sluggish property market and reduced cash flows.
Nearly 70 companies have reported as delinquent on payments, amounting to VND176.1 trillion, with the real estate sector constituting the majority, local media reported.
In March, the Government issued a regulation allowing bond issuers to extend debt maturities by up to two years and use other assets for bond payments, subject to bondholders' approval.
Consequently, over VND42 trillion ($1.77 billion) worth of corporate bonds were rolled over in the second quarter of the year.
Extending maturity dates, however, comes with risks and challenges, requiring cooperation and agreement from all involved parties, including bondholders, investors, and creditors, experts have warned.
Negotiations can be complex and time-consuming, requiring a thorough assessment of the company's financial health and future debt repayment capabilities.
Le Hoang Chau, chairman of the HCM City Real Estate Association (HoREA), noted that very few bondholders accepted the option of receiving other assets as bond repayments.
They argued that real estate products such as villas or apartments are overpriced and often entangled in legal issues related to land-use rights.
The corporate bond market has experienced a boom in recent years, driven by increased capital demand from property developers and banks.
However, the market took a sudden turn in October last year following the arrest of the chairwoman of Van Thinh Phat Group on charges of bond market fraud.
According to a report by S&P Global Ratings, the real estate sector holds the largest outstanding bond value of VND396.3 trillion, or 33.8 per cent of total outstanding bonds.
Unless the property sector improves, more defaults may be on the horizon, warned the report.
Prime Minister Pham Minh Chinh has instructed the central bank and the finance ministry, primarily responsible for managing the bond market, to enhance their management to revive it.
Source: VNS