Nine-month FDI to Vietnam's real estate doubles to $3.5 billion
Dai Le
Wednesday |

10/05/2022 09:20
---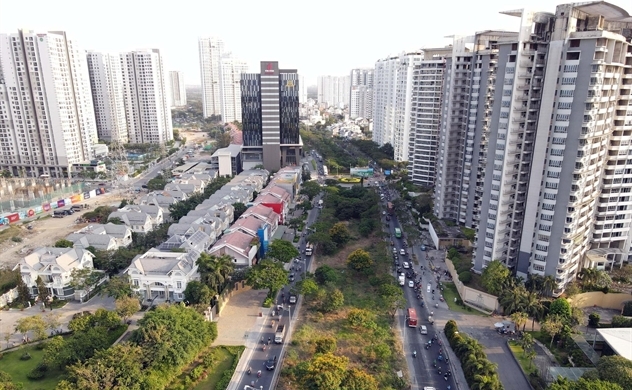 Photo: Thanh Nien / Dinh Son
The real estate sector received more than $3.5 billion as of Sept. 20, a two-fold increase from a year ago, according to the latest data from the Ministry of Planning and Investment.
Real estate sector continued as the second biggest foreign investment receiver in the past nine months with more than $3.5 billion, accounting for nearly 19% of total registered investment capital.
This number nearly doubled compared to the same period last year with only nearly $1.8 billion.
Hanoi and Ho Chi Minh City were favorable destinations for foreign investors. Industrial land in these two cities is more competitive and subtly raises rents due to advantages in infrastructure and traffic.
Since the beginning of the year, foreign investors have invested in 53 provinces and cities across the country. In which, leading is Ho Chi Minh City with a total registered investment capital of over $2.96 billion, accounting for 15.8% of total registered capital and up 26.2% from 2021.
Binh Duong ranked second with over $2.7 billion, accounting for 14.4% of total capital, an increase of over 58% over the same period of last year. Bac Ninh ranked third with total registered capital of $1.78 billion, accounting for 9.5% of total capital. 
The government has outlined development directions and increased the availability of real estate nationwide in response to the industrial "tsunami" that is approaching Vietnam.
Nine new industrial parks with a combined size of 2,472 ha and a total investment capital of up to $29.4 trillion have been approved in the first two quarters of 2022 and will begin operations in the years 2023 to 2025.
This makes it possible for both local and international real estate developers to create new goods in response to market demand. Large international investors and businesses, like the LEGO Group from Denmark or the YSL Group from Korea, among others, are helping to raise the bar for the caliber and standards of industrial parks in Vietnam. this professional analysis.