New trends identified for real estate market in 2021
Phung My
Wednesday |

12/01/2021 11:04
---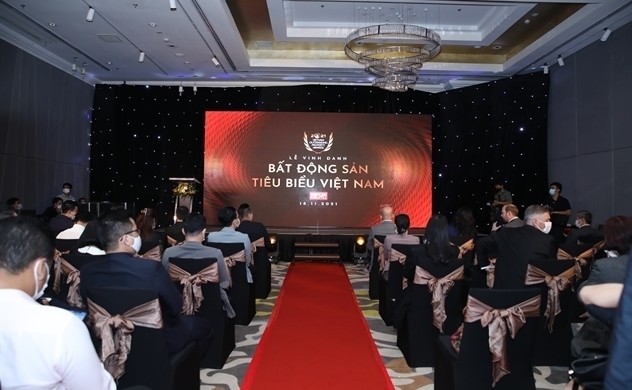 Photo: Quy Hoa
Vietnam's real estate market is forming new trends with many prospects.
Vietnam's real estate market is forming new trends with many prospects.
On 18th November 2021, the Vietnam Outstanding Property Award 2021 was organised at Caravelle Hotel, Ho Chi Minh City. The event was also aired on Facebook, Tiktok, YouTube... of Nhip Cau Dau Tu Magazine.
The event was attended by nearly 300 guests who were high-ranking representatives from small businesses, real estate management companies. Vietnam Outstanding Property Award 2021 is the most prestigious and influential annual award of the Vietnamese real estate community, organized by Nhip Cau Dau Tu Magazine to honor real estate brands and individuals.
Excellent real estate companies with contributions and influences to new trends of real estate in Vietnam. They create a modern and civilized living space for Vietnamese people, promoting new trends to improve the competitive position of Vietnam's real estate industry in the international market.
At the event, the winners showed the steadfast spirit and development strategy that adapts to the new circumstances of the Vietnamese real estate business. They have proactively and creatively created many new solutions and business platforms to help businesses not only overcome difficulties, but also open up new development directions of the real estate industry, despite current difficulties.
The health-economic-cultural-society crisis has caused great fluctuations to the real estate market. Also from this fluctuation, enterprises in the industry realize the need for sustainable growth to withstand future shocks. In addition to responding to market changes, investors must study more closely about changes in customers, distributors, and even competitors.
Notably, the driving force for the rise of Proptech companies (technology in real estate) over the past time. According to Mr. John Le, founder of Propzy, proptech will support businesses to actively apply technology in distribution, marketing, customer access, etc., while minimizing costs and increasing business efficiency.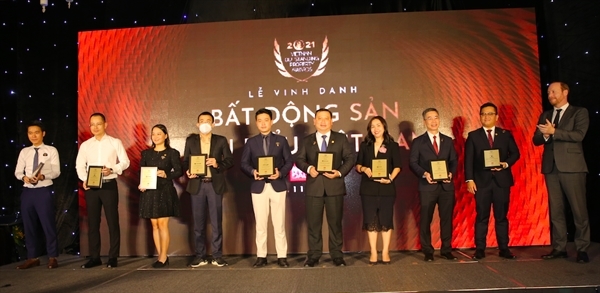 Photo: Quy Hoa
In addition, businesses pay more attention to the trend of environmentally friendly housing, associated with many health care facilities, green materials, and energy saving... The winners of the Typical Real Estate Award 2021 are also the businesses that promptly launch products and solutions to catch up with the above trends.
Mr. Su Ngoc Khuong, Senior Director of Savills Vietnam said that real estate is still an investment that attracts the attention of Vietnamese people. According to him, the increase in real estate prices, especially housing in the past time, despite the epidemic affecting the economy, is reasonable as Ho Chi Minh City went through a lack of supply due to difficulties because of juridical issues in the past 5 years.
Secondly, in the current context, investors often look for investments to preserve assets, but not everyone has experience in investing in stocks, gold or foreign currencies. In that context, real estate is the most attractive channel. Finally, many people think that "people can increase, but land cannot" adds more plus points to this investment channel. "Not only Vietnam, this is the general trend of Asia," said Mr. Khuong.
Sharing the same view on the attractiveness of residential real estate, Mr. Alex Pham, Co-Founder and CEO of Fina, a platform that connects users with home loans and investments, said before the pandemic the company handled the situation. From 5 to 10 loan applications, now the number has increased to 20 to 30 applications/day.
In addition, the Vietnamese market has become a new destination for luxury real estate - a segment for the super-rich. This product meets the increasing needs of customers in the luxury and ultra-luxury segments. More than just a place to return to, this product is also a place to demonstrate a new level of style and lifestyle. It also shows a new taste of investors, and at the same time increases the value of Vietnamese real estate in the international real estate market.
Real estate is an important sector for the economy. The recent contribution of the real estate market to GDP is between 7 - 10%. When the real estate industry grows, it not only benefits itself, but also creates spillover effects to the national economy. This expectation is placed on strong development resources and an increase in the number of real estate developments, construction contractors, distribution contractors, and many talents in urban architecture have created a push to help the real estate market sublimate.
Through these votes, the award has promptly honored many businesses with many excellent solutions and business models, creating the excitement of the real estate market, and at the same time contributing to the creation of new businesses, modern urban areas, housing models, living spaces ... catch up with sustainable architectural trends, civilized living standards in the world.
Companies and individuals receiving awards at the event:
*Best design
- Vega City Nha Trang of KD Investment JSC
- Takashi Ocean Suite Ky Co of Danh Khoi Group
- Asiana Riverside of Gotec Vietnam
*Best Green project
- Ecopark of Ecopark Corporation
- Thanh Long Bay of Nam Group Investment JSC
- Medal for Urban Green Lifestyle Solution for Koro Company with several innovations in the application of clean water supply.
*Best Public Infrastructure
- Thanh Long Bay of Nam Group Investment Group
*Best Building Material, Interior & EM Supplier
- Hoa Sen Group
*Best Property Distributor
- Danh Khoi Group
*Best Developer
- Cat Tuong Real Estate Group 
- Danh Khoi Group
- Ecopark Corporation
- Gotec Vietnam
- Khang Dien House
- Nam Long Group
- Phat Dat Group
- Phu Long Group
- Sun Group 
- Vinhomes
- Hung Thinh Land
- Masterise Homes
- Novaland 
*Successful Leadership 
Mr Le Trong Khuong, CEO of Hung Thinh Land 
*Typical Typical Real Estate Entrepreneur 2021
Mr. Bui Xuan Huy, CEO of Novaland.