Nam Long partners with Japan's major railway operator to build new affordable condo project
Khanh Minh
Monday |

07/26/2021 15:16
---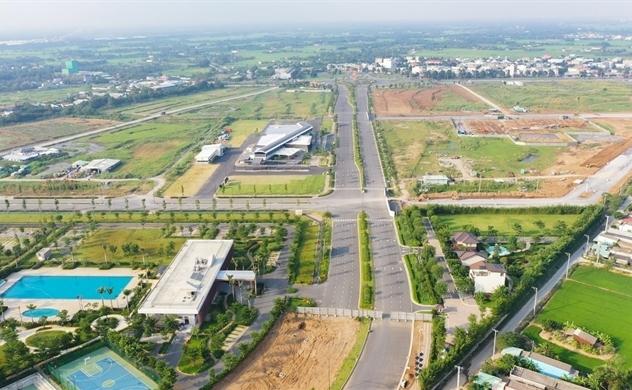 The EHome Southgate project in the Southgate subdivision of Waterpoint is opposite the shopping service complex and the Bus Interchange transport center in the new urban area. Photo: Nam Long
Nam Long Apartment Development Corporation, a member of Nam Long Group has teamed up with Nishi Nippon Railroad Japan to develop a new affordable condo project named EHome Southgate in Long An.
The cooperation has marked the first time Nam Long working with a Japanese partner in developing an affordable apartment project which belongs to its EHome product line, according to a statement from the Vietnamese realtor. 
The affordable housing project named EHome Southgate to be developed by Nam Long ADC and Nishi Nippon Railroad Japan, one of Japan's 16 biggest private railroad companies will locate at the entrance of the 355-hectare Waterpoint Urban Area in Ben Luc district, Long An province.
The EHome Southgate, which covers 4.5 hectares of land in the area, was designed to have seven apartment blocks, equivalent to more than 1,400 apartments. The project is expected to have a synchronous utility infrastructure system and easily connect to the infrastructure of the Waterpoint River.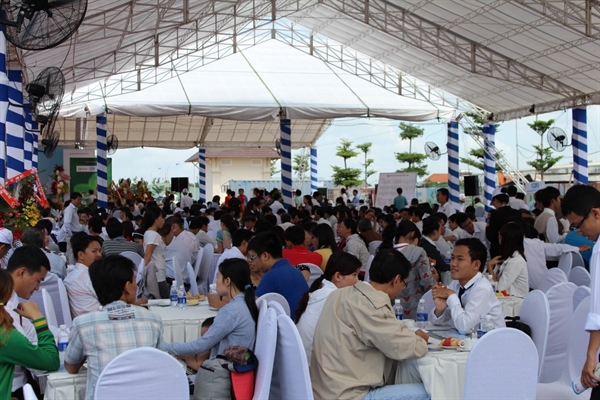 Previous EHome projects always achieved a record in terms of sale. Photo: Nam Long
The project has a very special living environment of the most integrated urban area in the Western of Ho Chi Minh City. Besides the utilities of the EHome product line, it inherits the entire utility ecosystem for future citizens to live - work - study - play - shop in the Waterpoint Urban Area. Each apartment will be sold at around VND1 billion ($43,500).
After six years of close cooperation in several projects and understanding the business philosophy and enthusiasm of Nam Long in realizing the "dream of having a home" of many Vietnamese citizens, Nishi Nippon Railroad Japan has decided to cooperate with Nam Long Group to develop the EHome product line.
This is not only a bright signal for Nam Long but the Vietnamese real estate market since foreign investors are famous for their prestige and quality in housing development. Nam Long and its Japanese partner plan to launch the project through an online sales gallery in the third quarter of 2021.
"Nam Long and Nishi Nippon Railroad have jointly developed six small and large projects. Participating in affordable housing development with the EHome product line confirms our comprehensive trust in Nam Long Group," shared Mr. Fukumori, a representative of Nishi Nippon Railroad.
"The EHome products do not bring Nam Long as much profit as those belong to higher product lines. We are happy to receive support from Nishi Nippon Railroad. The partnership shows that we are not only attached because of business and profit, but we are sharing a common mission and vision in creating valuable living environments and products for the community, stated Mr. Tran Xuan Ngoc, General Director of Nam Long Group.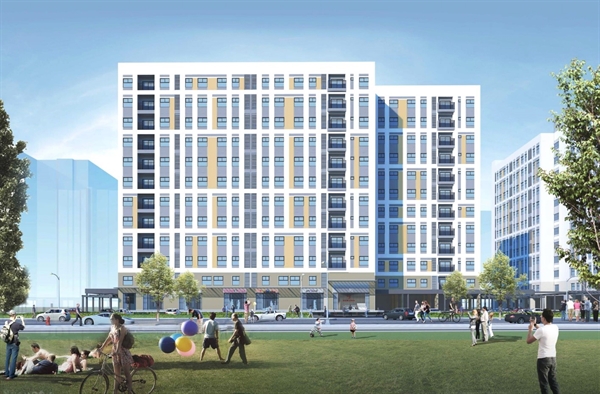 Artist impression of the EHome Southgate apartment building
Officially embarking on cooperation in 2015, the Japanese firm with more than 100 years of experience has been associated with Nam Long on its way to transform itself into a developer of multi-utility integrated urban areas with Flora condominium product lines and Valora-class townhouses, raising the living standard of Vietnamese people.
EHome is a highly appreciated affordable apartment product line of Nam Long. This product line has an average price of about VND1 billion with three core values: Economy (affordable), Ecology (green living environment), Efficiency (effective design). This product line is very popular with fast consumption.
Nam Long introduced the product line for the first time in 2007. Since then, EHome has realized the dream of having a house for 5,000 households.
The Nishi-Nippon Railroad Co., Ltd. is one of Japan's "Big 16" private railroad companies. With headquarters in Fukuoka, it operates local and highway buses, supermarkets, real estate, and travel agencies, as well as railways in Fukuoka Prefecture.