Masterise Homes starts construction on the world's largest Marriott branded residences
Van Dat
Wednesday |

03/24/2021 16:54
---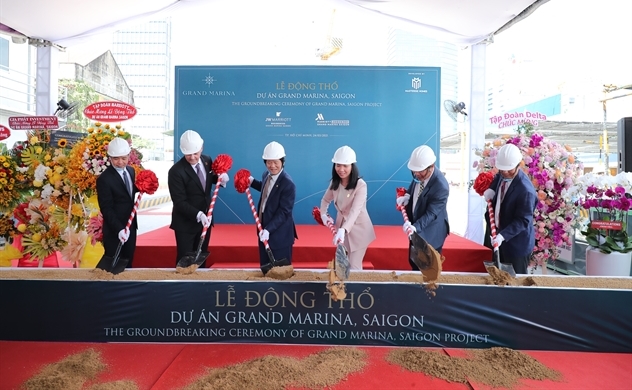 Photo: Masterise Homes
Masterise Homes held the groundbreaking ceremony of the Grand Marina, Saigon, the first ever JW Marriott and Marriott Branded Residences in Vietnam, in downtown of Ho Chi Minh City.
The branded residences project comprising eight towers near Saigon River waterfront is located locates at No. 2 Ton Duc Thang Street, Ben Nghe Ward, District 1, Ho Chi Minh City.
The groundbreaking ceremony is an important milestone, marking the beginning of the journey to create a new focal point of the city and this rapid change, an emblem of a nation's ascent and its promise as a new center of commerce and culture in Southeast Asia.
This is a dual brand project encompassing two prestigious brands of JW Marriott and Marriott, and is also a world-class complex with a masterplan featuring a series of manicured public gardens, a waterfront boardwalk, yacht.
Masterise Homes has become a pioneer to bring the branded residences concept into Vietnam and introduce Grand Marina Saigon, a timeless asset, a legacy to be passed on generation after generation, said Jason Turnbull, Deputy Managing Director cum Chief Financial Officer at Masterise Homes.
"The groundbreaking ceremony today is very meaningful for us as this is an important milestone, realizing the vision of Masterise Homes of creating exquisite real estate developments to impeccable standards, contributing to the prosperity of the community and society," he added.
The project is expected to be an extraordinary project to the growing portfolio of branded residences projects around the world. This will be the first and largest branded residences in Vietnam and Ho Chi Minh City, setting new benchmarks for build high quality and ultra-luxury living experience in line with international standards.
Marriott International will closely participate in every phase of the development of the Grand Marina, Saigon project: from design, construction quality inspection, to management of the project, in accordance with the strict standards of the Marriott brands, said Shawn Hill, Senior VP - Development APAC of Marriott International.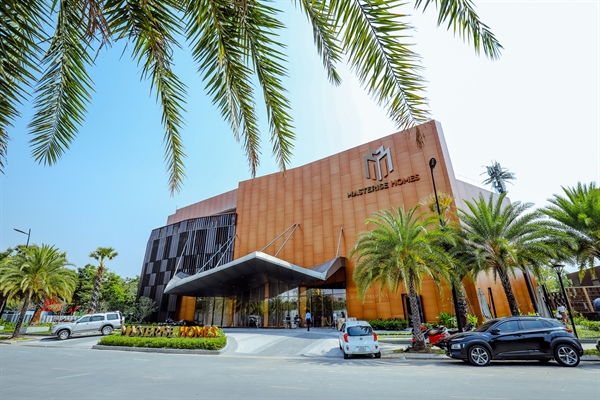 Photo: Masterise Homes
The concept of a branded residence can be traced as far back as the 1920s where the Sherry-Netherland Hotel on Fifth Avenue, New York pioneered the idea of serviced apartments for purchase alongside its successful hotel business. Since this time branded residences have consistently grown in popularity around the world on the back of a growing, globally mobile, high net-worth population.
According to Savills World Research 2019, there are more than 420 branded residence schemes globally. Marriott International is the world's biggest player in the branded residences sector. With 100 branded residences across 25 countries, Marriott International brands represent one in every four operational projects globally.
The company leverages 15 of its 30 leading brands for branded residential projects, with Marriott, JW Marriott, Ritz-Carlton, St. Regis and W accounting for nearly 70% of today's operational developments. Marriott International's extensive brand portfolio means it can offer a brand appropriate for every location and project type, in which a branded residence in New York, Shanghai or Bangkok will have the same exactly quality standard as a branded residence in Vietnam.
Branded residences offer many advantages in a crowded global marketplace for luxury property. Globally-mobile, brand conscious wealthy individuals are attracted by brand name, quality design, security and the level of service branded residences offer. Luxury brands have proved appealing to the affluent, by whom they are viewed as a mark of success.
While branded residences generally attract a price premium compared to a non-branded property, the value and benefits that owners enjoy often outweighs the premium. Wealthy individuals are also attracted to the trophy status of a branded residential product as it immediately provides the kudos of being associated with the internationally recognized brand.
Their appeal makes branded residences a community of like-minded individuals with common values and share a similar level of affluence. Their limited supply also means they are more exclusive – a value highly appreciated by the affluent elites. 
Masterise Homes is a pioneer of world-class luxury real-estate development in Vietnam and beyond, Masterise Homes strives to bring excellence to all aspects of development, operations and management.
With an unwavering commitment to quality, it strives for international standards in all of our products and services, delivering the ultimate in customer service, contributing to the community, and working towards a sustainable future.
Same category news
Hot news of the day