Masterise Homes introduces Privileged Insurance Package in the new normal
Bich Phuong
Saturday |

10/16/2021 10:47
---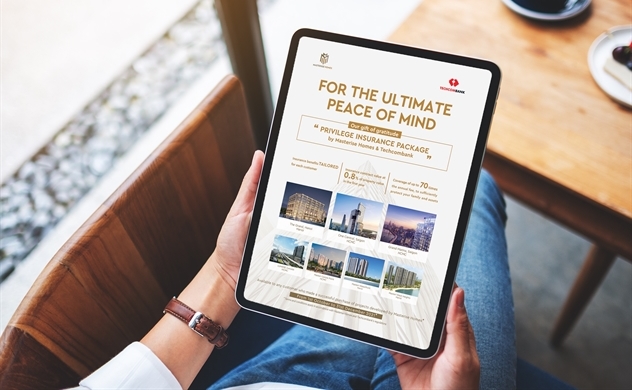 Strategic partnership between Masterise Homes and Techcombank brings customers differentiated and privileged values.
Masterise Homes announced the strategic partnership with Techcombank in the program For the Ultimate Peace of Mind with Manulife Privilege Insurance Package.
The Privilege Insurance is composed of ultimate benefits for customers of Masterise Homes, demonstrating genuine commitment to uplifting the living standards in Vietnam.
With the philosophy of "Customer Centricity", Masterise Homes is committed to creating differentiated values beyond our world-class projects or services that exceed expectations. For the Ultimate Peace of Mind is a testament to the unique and privileged values from Masterise Homes, creating ultimate experience and a new standard of living for our customers.
Pioneer in creating practical values for customers amid the pandemic
The pandemic has made us take more control of health and investment for the future. According to a recent survey polled some 4,000 people across eight markets in Asia[i], health and finance are two of the top concerns amid the pandemic. In Vietnam, 100% of respondents have taken personal actions to improve overall health in response to Covid-19.
Aligned with taking better control of health and finance, interest in buying new insurance has also risen significantly, according to the survey. The survey also indicated that in Vietnam, 9 out of 10 respondents said they intended to buy insurance in the next six months, much higher than the average of 71% across Asia.
Anticipating the needs of customers, Masterise Homes and Techcombank collaborated to present For the Ultimate Peace of Mind - the pioneering privileged customer appreciation program. The Privilege Insurance encompasses multiple values which provide our customers not only with protection and peace of mind during this uncertain time but also a valuable investment in health, finance as well as the future of their family and assets.
Mr. Jason Turnbull, Deputy Managing Director cum CFO of Masterise Homes shared: "At Masterise Homes, we take great pride in applying world-class capabilities to create impeccable real estate development that stands the test of time. For the Ultimate Peace of Mind has gone beyond a customer appreciation program to become a sustainable solution of Masterise Homes that meets the customers' needs in this time of uncertainty and the future. At the same time, the program realizes our commitment to constantly deliver ultimate experiences for customers, elevate luxury living and transform the nation for future generations."
Insurance package with personalized benefits
In line with the commitment to creating ultimate experiences for customers, Masterise Homes and Techcombank designed the program with privileged benefits from Manulife – the top 10 largest insurance companies in Vietnam.[ii] The insurance contract values at 0.8% of property value in the first year with coverage of up to 70 times the annual fee to sufficiently protect your family and assets.
The differentiation of For the Ultimate Peace of Mind is how this program delivers individualization by tailoring values ​​and benefits based on each customer's needs and asset management plans. As a result, customers will be protected in many different ways – not just limited to the benefits of life insurance but also extending into healthcare, Investment-linked insurance, etc.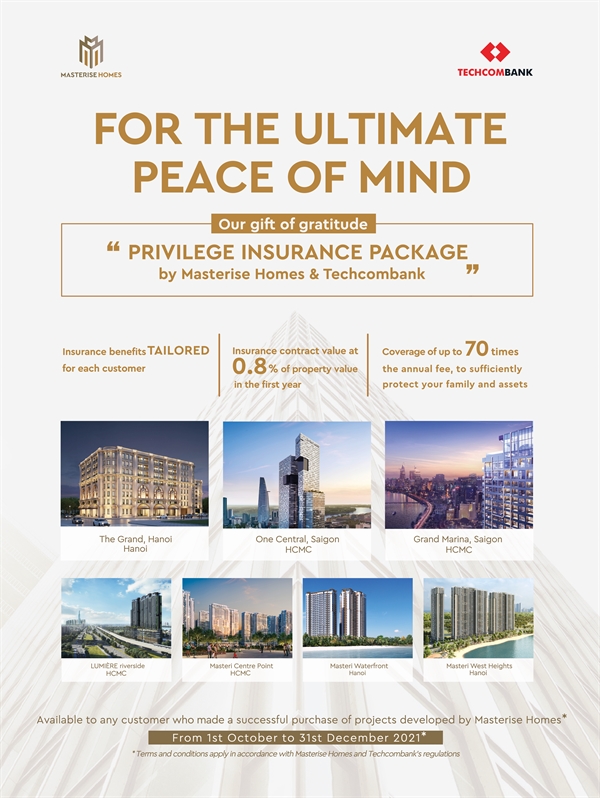 The program is available for any customer who made successful purchase of 7 projects developed by Masterise Homes.
The program is available for any customer who made successful purchase of projects developed by Masterise Homes[iii], including Grand Marina, Saigon; One Central, Saigon; LUMIÈRE riverside; Masteri Centre Point in Ho Chi Minh City and The Grand, Hanoi; Masteri West Heights; Masteri Waterfront and in Hanoi, starting from 1st October till 31st December 2021.
More information about the program can be found at https://bit.ly/PrivilegedInsurance
About Masterise Homes:
Masterise Homes – a member of Masterise Group, is a pioneer in bringing world-class excellence to the development, operations, and management of luxury real estate products and services, in the Vietnamese market and beyond.
With a one-of-a-kind portfolio comprising the largest Branded Residences in South East Asia, Masterise Homes demonstrates world-class capabilities via a strategic partnership with Marriott International, the largest hotel brand in the world with iconic brands of Marriott, JW Marriott and The Ritz-Carlton.
World-class Real Estate Projects by Masterise Homes:
Ho Chi Minh City: Grand Marina, Saigon; One Central, Saigon; LUMIÈRE riverside; Millennium; Masteri Centre Point; Masteri Thao Dien and Masteri An Phu
Hanoi: The Grand, Hanoi; Masteri West Heights; Masteri Waterfront