Land prices in Hanoi area surge by 30-50 percent
Thuan Phong
Thursday |

04/21/2022 15:34
---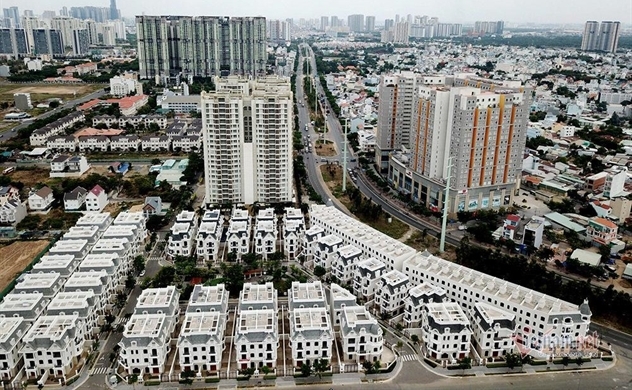 Premium projects are on the rise
Real estate prices in transactions rose in the first three months of the year, according to the Ministry of Construction (MOC).
MOC in March conducted a survey and collected information about the price fluctuations of some types of real estate and 2022 in eight localities. 
The localities included Hanoi, HCM City, Da Nang, Hai Phong, Binh Duong, Dong Nai, Khanh Hoa and Ba Ria – Vung Tau.
The average transaction prices were on the rise, while sharp increases were seen in some localities. 
Real estate for lease in Hanoi and HCM City in March increased slightly compared with February. Apartments for lease in Da Nang also saw relatively big increases. 
In Hanoi, apartments increased by 1.53 percent, houses by 2.24 percent, land for housing development by 2.85 percent. The figures were 2.48 percent, 2 percent and 3.6 percent, respectively, in HCM City. 
The Q1 report of a real estate firm showed that in the first three months of the year, the land and project ground attracted high attention in many cities and provinces. 
In the north, building land in Bac Giang increased by 35 percent, followed by Hai Phong by 29 percent compared with 2021. Meanwhile, increases of 16 and 20 percent have been reported for Bac Ninh and Quang Ninh, respectively. 
In Hanoi, land in the suburban district of Chuong My increased by 74 percent compared with 2021, the sharpest increase in the north and the entire country. Other districts also saw price increases, including Dong Anh (20 percent), Gia Lam (21 percent) and Quoc Oai (26 percent). 
In the central region, an increase of 35 percent has been reported for Thanh Hoa, 26 percent for Khanh Hoa and 13 percent for Binh Thuan. The number of online users searching for information about land prices increased by 41, 35 and 32 percent, respectively. 
In the south, the suburbs were bustling. The level of interest in land in Cu Chi (HCM City) increased by 25 percent, and in Binh Chanh by 10 percent. Price increases were also seen in the eastern part of the southern region, while the prices in Dong Nai increased by 7 percent in Tay Ninh 12 percent. 
In general, real estate prices have not shown any signs of slowing down. 
The Q1 2022 report of DKRA showed that except for land, which saw a slight increase of 6 percent in sales in comparison with the previous quarter and the same period last year, the other market segments, including apartments and villas, all saw slow sales.
Fewer than 2,600 apartments were sold in the first three months of the year in HCM City and neighboring provinces, just equal to 45 percent of the previous quarter and 59 percent of the same period last year. 
Only 430 townhouses and villas were sold, or 18 percent of Q4 2021 and 65 percent of the same period last year. 
In principle, those who bought land one year ago have made high profits as prices have increased significantly. However, there are very few transactions now and it's difficult to find buyers. 
Minh Thuy in Hoang Mai district in Hanoi said she bought a 100 square meter land plot in Hai Boi commune in Dong Anh district some months ago and estimated that she could make a profit of 30-40 percent. However, she still cannot sell the land plot, though she is willing to sell at prices equal to the purchase prices as she needs money immediately. 
The price escalation continues to make it impossible for low-income earners to buy houses. Some families have saved VND1.5 billion and believe that with that money, they can buy an apartment in the suburbs. But in fact, apartment prices have surged to VND2 billion or VND2.5 billion.
Source: VietnamNet