Industrial property to remain bright spot for Vietnam economy in 2024: expert
Minh Hue
Friday |

11/17/2023 17:30
---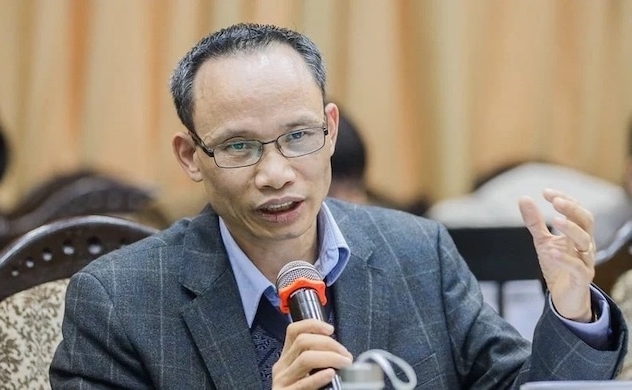 Can Van Luc, chief economist at state-controlled bank BIDV. Photo by The Investor.
Industrial real estate will continue to be a bright spot for the Vietnamese economy next year, with stable and high occupancy rates and rental prices.
The bright outlook is supported by forecasts of a global recovery and Vietnam's outlook in 2024, with controlled inflation, and improvements to legal frameworks within the draft revised Land Law, Real Estate Business Law, Housing Law, and Law on Credit Institutions expected to be approved by the National Assembly at its ongoing session and take effect in 2024, according to the economist.
According to the Ministry of Planning and Investment, by the end of 2022, Vietnam had 407 industrial parks with a total natural land area of nearly 129,000 hectares. Of these, 292 had been put into operation, accounting for about 72%, and 115 or 28% were in the stages of site clearance compensation and infrastructure construction.
Since the second quarter of 2022, although Vietnam's macro economy and property market in general have encountered many difficulties and challenges, the industrial real estate segment has still recorded positive results.
The Ministry of Construction reported that by the end of the 2023 third quarter, the occupancy rates of industrial parks in key northern and southern markets averaged over 82% and rental prices increased by 7-12% compared to the same period last year.
In the year to August, the outstanding credit of the industrial real estate segment hit VND56.6 trillion ($2.31 billion), accounting for 5.7% of total real estate business loans and up 41% from the end of 2022, the ministry said.
In the first 10 months of 2023, registered FDI in the property sector, including industrial real estate, was $2.14 billion, accounting for more than 8.3% of total FDI commitments in Vietnam. Disbursed FDI for this industry reached $763 million USD, or nearly 5% of the country's total, according to the Ministry of Planning and Investment.
However, Luc noted that the industrial real estate market still faces a number of difficulties and challenges such as limited new supply due to difficulties in planning, site clearance, land banks, legality and land valuation; fierce competition in FDI attraction with regional countries; the unstable world economy affecting the needs of Vietnam's main trading partners; and prolonged, complicated geopolitical tensions.
Therefore, the expert gave several recommendations to improve the industrial real estate market in the time to come.
Firstly, it is necessary to perfect institutions towards completing the amendment of the Land Law, Housing Law, Real Estate Business Law, Law on Credit Institutions and Decree 44 on land valuation on time and with quality. Decrees and guiding circulars need to be issued promptly, creating a legal basis for authorities to manage the market, he said.
He stressed the need to consider upgrading the legal framework for the industrial real estate sector from decree to law level, with special emphasis on practical and attractive preferential policies for investors to diversify resources for industrial park development. "Specific and appropriate plans for FDI attraction are also needed for when Vietnam applies the global minimum tax from early 2024," he noted.
Secondly, Vietnam should have timely solutions to remove problems for industrial real estate projects to increase supply while accelarating disbursement of the socio-economic recovery program.
Thirdly, it is necessary to drastically speed up disbursement of public investment to help upgrade infrastructure and transportation systems, thus facilitating trade activities of industrial parks and promoting regional connectivity.
Fourthly, the country needs to concretize criteria for eco-industrial parks with specific incentives, especially in terms of land access, planning, capital, and science-technology.
Fifthly, it is necessary to soon solve existing problems in the financial market, and diversify and perfect the real estate financial market to enhance capital access for the property sector in general and the industrial real estate segment in particular.
Sixthly, credit institutions must drastically implement the orientations, circulars and instructions of the State Bank of Vietnam such as Circular 02 dated April 23, 2023; Circular 06 dated June 28, 2023; and Circular 10 dated August 23, 2023 to support the sustainable and healthy development of the realty market.
Seventhly, industrial park developers need to actively promote the diversification of capital sources towards greater transparency and professionalism, while paying attention to risk management and better meeting environmental and safety requirements. They should build, upgrade and improve concentrated wastewater treatment, solid waste collection and treatment systems, as well as waste-to-energy incinerations to anticipate the trend of green growth, digital transformation, and green, ecological industrial park development.
Source: The Investor