Hung Thinh to build 695ha tourism entertainment complex in Quy Nhon
Xuan Thinh
Wednesday |

03/09/2022 12:07
---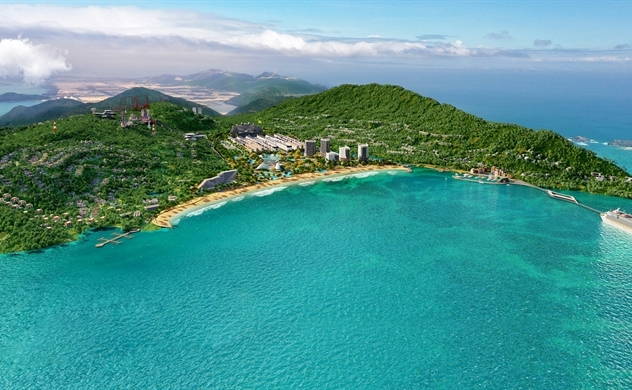 Photo: Hung Thinh Group
Vietnamese real estate developer Hung Thinh Group has announced to spend VND57 trillion ($2.5 billion) for the first construction phase of a world-class commercial tourism peninsula city in Binh Dinh province.
The tropical wonder MerryLand Quy Nhon was expected to contribute to the complete change of the tourism industry in the coastal city of Quy Nhon.
The project which was designed with 25 subdivisions including 5-star coastal hotels, hill villas, condotel, bizhouse, theme park will offer residences and tourists absolute privacy and endless experiences from the sea and the nearby mountains.
The center of the vibrant experiences at MerryLand Quy Nhon is the Canal District, the first subdivision to be launched in 2022. The Canal District forms 36 multi-purpose streets with more than 50 architectural samples inspired from West to East. 
This will be the space of vibrant international festivals day and night, water music performances combined with 3D mapping, sound and light, and unique shopping and entertainment activities...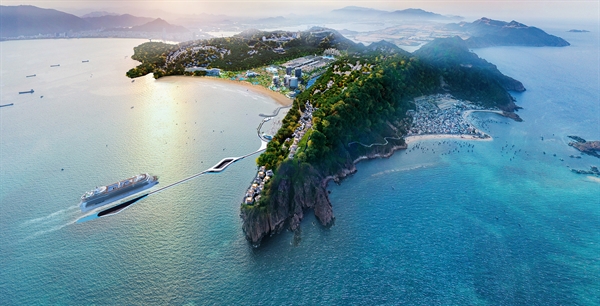 Photo: Hung Thinh Group
The complex will have Vietnam's largest and longest water music square, the longest canal system in Vietnam, an 18-hole golf course, marina, and 2 largest yachts in Southeast Asia. Facilities in the area will be operated by Marriott International, the world's most reputable hotel operator.
To make MerryLand Quy Nhon a world-class destination for international tourists, Hung Thinh Group has cooperated with nearly 20 global brands in planning design, management, architecture such as Greg Norman, Steelman Partners, Laservision, Marriott... 
The super project of a complex of 5-star standard resort - entertainment - shopping complex is 30 minutes from Phu Cat airport. Hai Giang is a natural peninsula with wonderful scenery and terrain with mountains embracing valleys. When completed, MerryLand Quy Nhon will supply enough luxury hotels and resorts in Binh Dinh. 
The number of tourists to Binh Dinh is constantly growing. Before the outbreak of the COVID-19 pandemic, the province welcomed more than 4.8 million visitors.
However, the number of domestic tourists accounted for a large number with more than 4.3 million arrivals. International visitors are still modest with less than 500,000 arrivals. The lack of world-class resorts - entertainment - entertainment - shopping complexes refrained international tourists from the locality. 
As of December 31, 2021, the province has 386 hotels and resorts with a total of 11,792 rooms. There are only one 5-star hotel and nine 4-star hotels, the rest is in the mid-end and budget segments, according to the Binh Dinh Department of Tourism.
Same category news