Hung Thinh signs strategic partnership with various partners for tourism development
Bich Phuong
Monday |

01/10/2022 18:30
---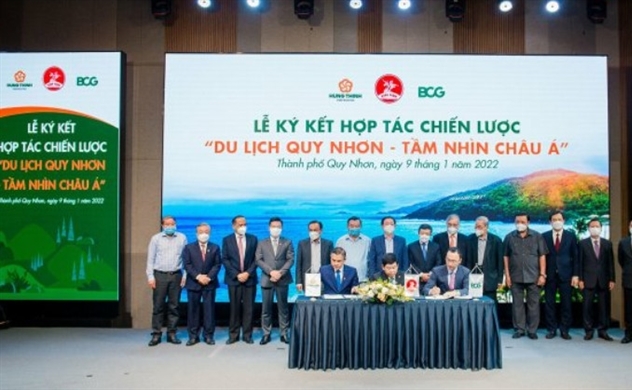 Vice Chairman of Hung Thinh Nguyen Van Cuong (left), Mr. II-Dong Kwon, BCG Vietnam CEO (right) and Mr. Ngo Hoang Nam, Chairman of Quy Nhon City People's Committee (middle) are seen at the ceremony.
Hung Thinh Group, one of the major real estate developers in Vietnam, has formed a strategic partnership with tourism firm Vietravel to promote tourism in Quy Nhon city.
Besides Vietravel, Hung Thinh has also teamed up with Boston Consulting Group to develop a tourism development project in Quy Nhon until 2030.
It has also signed a strategic cooperation agreement with Quy Nhon University, National University Pegasus International for a tourism training project to meet high-quality human resources in the locality.
Cooperating with the important partners, Hung Thinh Group aims to create better momentum for Quy Nhon's tourism reaching the regional and international level.
At the signing ceremony, the Quy Nhon city People's Committee, Boston Consulting Group, and Hung Thinh Corporation also inked an agreement to build a tourism development project that aims to turn the coastal city into a leading destination in Asia.
Accordingly, the project will focus on a comprehensive plan for sustainable and safe tourism. It will also focus on affirming the inherent potential and position of Quy Nhon in the domestic market as well as exploiting the potential in the high-end tourism segment, ensuring tourism growth.
Setting up a project for Quy Nhon's tourism development until 2030 is one of the key tasks of the city. It helps to realize the vision and development goals of the city. Tourism development, one of five pillars of socio-economic growth, will improve the life quality for people in the locality, Mr. Ngo Hoang Nam, Chairman of Quy Nhon City People's Committee stated.
"Through the strategic cooperation agreements, enterprises committed to accompanying Quy Nhon for sustainable tourism development commensurate with its potential," he added. 
Quy Nhon city has potential for further tourism development since it has a deep-water port like popular tourism destinations Hong Kong and Singapore, where tourism plays an important role for economic growth of the locality, said Mr. II-Dong Kwon, Managing Director of BCG Vietnam.
"We are working on building a vision so that this city can become a leading tourism destination in Asia and a leading tourism destination in the world", he revealed.
Forming a strategic partnership with Vietravel 
In order to realize the goal, Hung Thinh and Vietravel will exploit and optimize the strengths of their ecosystems for the development of resort real estate, travel, aviation services, build tour packages, new travel routes. 
The two companies will jointly support the exploitation and promotion of their images of them at identification points at home and abroad. They will also focus on building the system, actively applying digital technology in resource management and service implementation... to bring experiences and enhance the enjoyment value for visitors.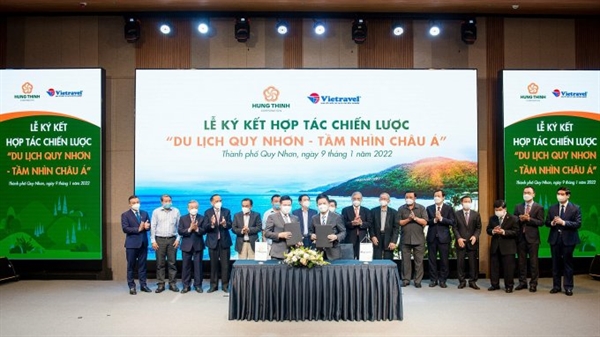 Mr. Nguyen Dinh Trung - Chairman of Hung Thinh Group (left) and Mr. Nguyen Quoc Ky - Chairman of Vietravel's Board of Directors (right) signed a comprehensive strategic cooperation agreement between Hung Thinh Group and Vietravel Company.
For Quy Nhon market, Hung Thinh and Vietravel will jointly carry out promotion programs and connect with potential international tourism markets in Europe, the US, Australia, Japan, Korea, Hong Kong to affirm its advantages as a coastal city on the regional and international tourism map.
Binh Dinh province has targeted to attract 3.4 million visitors. Cooperation between reputable large enterprises in the industry such as Vietravel and Hung Thinh Corporation is needed, Mr. Nguyen Quoc Ky, Chairman of Vietravel's Board of Directors, commented. 
Ky hoped that the cooperation will extend to enterprises of other business sectors as part of the strategy to revitalize the tourism industry as well as the Vietnamese economy in general. 
High-quality human resources needed
With the speedy development of the tourism industry in recent years, Quy Nhon is facing a shortage of high-quality human resources that meet international standards. To satisfy the demand, Hung Thinh Group signed a cooperation agreement with Quy Nhon University and Pegasus International School to deploy full-time and short-term training programs.
Hung Thinh Land has decided to sponsor VND100 billion for the program in 3 years. The funding will be used to support training, providing 10,000 jobs in 5 years for tourism workers in Binh Dinh.
Hung Thinh Group always actively cooperates with leading local and foreign enterprises to promote Quy Nhon's tourism brand, contributing to the socio-economic development, Mr. Nguyen Dinh Trung, Chairman of Hung Thinh Group, said while talking about the group's activities to elevate Quy Nhon tourism,
"With our strengths and experience, we accompany Quy Nhon tourism industry to realize its 'Asian vision', he said.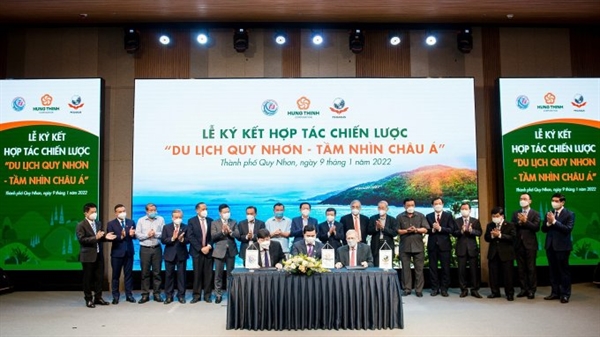 Mr. Truong Van Viet, Vice Chairman of Hung Thinh Group (middle), Assoc. Prof. Dr. Do Ngoc My, Rector of Quy Nhon University (left) and Dr. Hank Duyverman, Director of Academic Development Pegasus Vietnam (right) signs a cooperation agreement on training and developing human resources for tourism development in Quy Nhon city. 
Currently, Hung Thinh and its member units have implemented a series of large-scale real estate projects in the locality, contributing to the economic development of the coastal city. The projects include Quy Nhon Melody apartment, Grand Center Quy Nhon apartment complex, Richmond Quy Nhon commercial urban area. 
In addition, the Mui Tan water music park has become an attractive check-in point. Soon, this place will be a complex of services, commerce, high-rise hotels with a scale of more than 7 hectares, which is expected to become a new symbol of Quy Nhon.
Hung Thinh Group is devoting a lot of enthusiasm to developing world-class tourism - resort - entertainment complex with a scale of 1,000 hectares on Hai Giang peninsula with a total investment of more than VND47,000 billion in phase 1, of which invested more than 5,000 billion dongs in many priority items. 
This complex is expected to become the busiest tourist, resort, and smart commercial center, gathering a series of impressive utilities such as a water music complex, 5-star hotel, 18-hole golf course by Greg. Norman designed, theme park...
The project is the strategy of Hung Thinh Corporation and an important milestone of Quy Nhon's journey to become the leading destination in Asia.