Ho Chi Minh City to build two int'l cruise ports
Duy Khang
Tuesday |

09/06/2022 15:36
---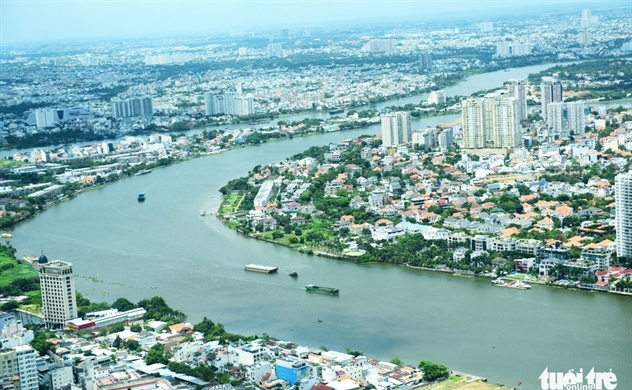 A bird's-eye view of the Saigon River in Ho Chi Minh City. Photo: Duyen Phan / Tuoi Tre
The Ho Chi Minh City Department of Transport has made a report about the plan to establish two passenger ports along local waterways in a bid to develop the city's tourism.
The first port is expected to be built at the Mui Den Do Park in District 7, located at the intersection of the Saigon and Nha Be Rivers, Bui Hoa An, deputy director of the municipal transport department, said, adding that this port will serve international cruise ships.
The port is included in the Mui Den Do Park building project.
A feasibility report on the project in 2017 shows that the port will be 600 meters long and 22 meters wide, and has a height of 2.8 meters upon completion.
The facility is capable of receiving cruise ships of up to 100,000 gross tonne (GT).
It will cover an area of two hectares and cost more than VND842 billion (US$35.7 million), funded by the private sector.
The Mui Den Do Park project has already been initiated by a local business, according to the transport department.
The next step requires the developer to submit a report to the prime minister to seek approval for the construction of the project's technical infrastructure.
The second passenger port, expected to be established at the existing Saigon-Khanh Hoi port area in District 1 and District 4, will be 1,800 meters long and serve the operation of domestic and international passenger ships, as well as restaurant vessels.
To implement this project, all non-tourism operations at the current Saigon Port must be relocated to a new venue in Nha Be District.
A report on this process will also need to be submitted to the prime minister.
The city's Department of Transport has requested the People's Committee and relevant units to solve the difficulties in the implementation of the two projects.
Many experts believe that Ho Chi Minh City has great potential for the development of waterway tourism and sea transport, but the current infrastructure does not meet this development demand.
The establishment of cruise ports in the coming time is expected to attract more visitors to the city and create momentum for the tourism industry.
Source: Tuoi Tre News