Vietnam's Southern region under broad order of on-site sleepovers
Xuan Thinh
Thursday |

07/15/2021 12:39
---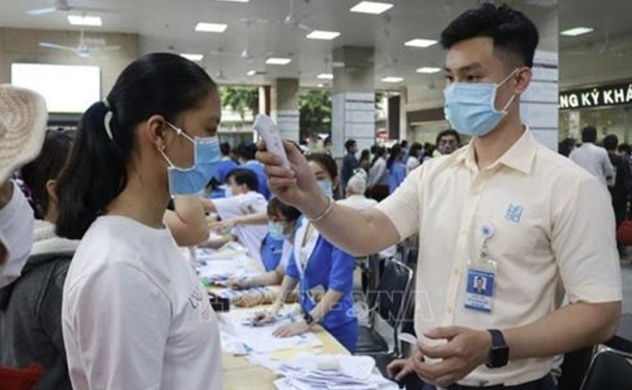 Photo: VNA / Dinh Hang
Several localities in Southern region of Vietnam have called enterprises to apply on-site sleepovers to maintain productions while preventing the spread of novel coronavirus.
On Thursday morning, Prime Minister Pham Minh Chinh, who chaired an online meeting with 27 southern provinces on COVID-19 pandemic prevention, called the localities to have measured to protect people's health while maintain production for the dual goals set by the Government.
The southern provinces, especially Ho Chi Minh City, the key economic region, are experiencing a complicated development of pandemic, he said.
Earlier, Ho Chi Minh City, the country's largest economic and financial hub, urged companies in major industrial clusters to apply on-site sleepovers for workers to maintain productions and prevent the virus.
Enterprises that do not satisfy the requirements should halt productions, according to instruction of Deputy Prime Minister Vu Duc Dam while working with the city to prevent the pandemic.
Southern province of Long An has also told enterprises in the locality to halt productions to prepare on-site sleepovers for workers. Those do not have conditions to arrange the on-site production will have to stop production. The local government requested businesses in the locality conduct on-site production, on-site dining and rest in place.
In addition, Long An strictly controls all vehicles and people traveling between the province and neighboring provinces including HCM City, Tay Ninh, Tien Giang, and Dong Thap.
Long An also requested enterprises in the neighboring localities to arranged on-site sleepovers for workers who are permanent residents of Long An.
Binh Duong province also asked local enterprises to develop production plans for pandemic prevention and control. Enterprises must arrange on-site sleepovers for workers.
Under the broad order of on-site sleepovers, there is possibility of supply chain disruption when several factories had to halt productions since they could not meet the requirements from the Government.
The Pouyuen Vietnam, the biggest employer in Ho Chi Minh City, had to suspend operation 10 days beginning July 14 since it failed to arrange on-site sleepovers for its workers. The Taiwanese footwear producer employs over 56,000 workers.
Samsung Electronics HCMC CE Complex and several firms with factories in the Saigon Hi-Tech Park had to suspend operations for the same reason. All factories in the park was told to temporarily close down until they submit plans on quarantines, accommodations for their workers to stay in their plants.
In the past week, Vietnam recorded more than 8,000 new infections in 34 provinces and cities. Localities reporting highest cases include Ho Chi Minh City, Binh Duong, Tien Giang, Dong Nai, Dong Thap, Long An, Khanh Hoa, Vinh Long, Minister of Health Nguyen Thanh Long told an online meeting chaired by Prime Minister Pham Minh Chinh on Thursday.
Since late April, the country recorded over 34,000 cases, of which 98% were domestic cases, more than 7,500 people recovered and 100 deaths.
Hot news of the day