Vietnam's PM warns nation faces high risk of local spread
Bloomberg | Nguyen Dieu Tu Uyen, Xuan Quynh Nguyen
Friday |

08/07/2020 16:47
---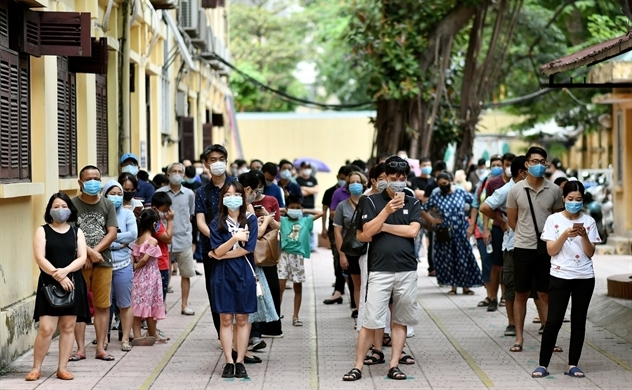 People observe social distancing while waiting to be tested at a makeshift rapid testing centre in Hanoi on Aug. 1. Photographer: Manan Vatsyayana/AFP via Getty Images
Vietnam's fight against the novel coronavirus outbreak "has entered its peak period," according to a posting on the goverment's website, which cited Premier Nguyen Xuan Phuc.
The outbreak, which started in Danang July 25, has spread to 12 provinces and cities, according to the Ministry of Health.
The risk of community infection is "very high", and requires more drastic measures and responsibilities of the entire political system, especially in the next two weeks in key areas, Phuc said as cited in the posting.
Phuc ordered cities and provincial authorities to apply appropriate measures to prevent the virus while at the same time minimizing negative impacts on economic activities and social life.
"Fast, and accurate testing is the key to stopping the spread of the infection," Phuc said. The country is determined to control the infection rate at the lowest level.
Vietnam has reported 750 coronavirus infections, including 348 cases under treatment, and 10 deaths.
► Vietnam confirms 30 new Covid-19 cases, patient tally increases to 747
Source: Bloomberg
Same category news
NYT | Chau Doan, Livia Albeck-Ripka