Vietnam's Jan.-Oct. rice export revenue estimated at nearly $4 billion, up 35%
Quynh Nhu
Sunday |

11/12/2023 12:22
---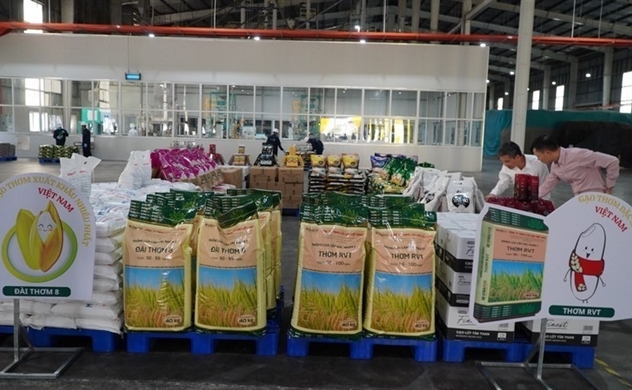 Export rice market is forecast to be vibrant in the coming time. Photo by NDO.
Vietnam exported over 7.1 million tons of rice in the first ten months of 2023, amounting to nearly 4 billion USD, a 35% increase in value over the same time in 2022.
The Ministry of Industry and Trade forecasts that Vietnam will export about 8 million tonnes of rice in 2023, with a turnover of about $4.5 billion, the highest figure ever.
Data from the Vietnam Food Association (VFA) also shows that the export price of Vietnam's 5% broken rice export price is currently at $653 per tonne, up 15.3% from 2022.
The average rice export price in the past ten months is estimated at $558 per tonne, a 15.3% increase from 2022. Export rice prices are expected to continue rising due to global economic, political, and social fluctuations, necessitating increased food reserves in many countries. Traditional rice markets like the Philippines, Indonesia, and China are also increasing imports.
India's rice export ban may persist due to a 3% decrease in crop output for 2023-2024, potentially boosting Vietnam's rice exports.
However, promoting rice exports must align with maintaining a stable supply, as if Vietnam exports 8 million tonnes in 2023, it must calculate new contracts for 2024. Therefore, Vietnam must ensure a stable supply to maintain its rice export ban.
Rice prices in the domestic market need to be regulated to encourage export purchases. High prices can cause farmers to stockpile goods and businesses to compete, causing chaos and affecting order fulfillment.
This can also affect the quality of exported rice. In the Mekong Delta, transactions are slowing down due to farmers' limited selling, resulting in a lower rice supply. Despite supply constraints, high-quality and fragrant rice remains the priority choice for importing countries.
China is favoring Vietnamese rice varieties ST 21, 24, and 25, and exporting specialty rice to American, European, and Oceanian markets has also grown.
Localities should maintain high-quality rice production and apply good agricultural practices to increase the value of their products.
They should boost the implementation of a project to grow one million hectares of high-quality rice in the Mekong Delta region, aiming to improve rice quality, reduce greenhouse gas emissions, and create sustainable consumption products.
Source: Nhân Dân