Vietnam's hotels recovering from pandemic but still face challenges: Savills
VNA
Wednesday |

03/15/2023 14:00
---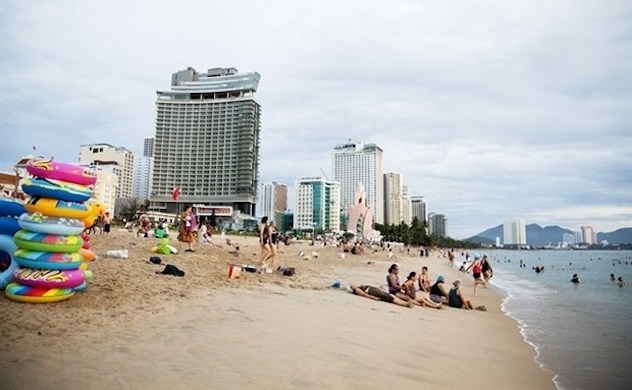 Tourists on a beach in Nha Trang, which has been heavily affected by the drop in the number of Chinese tourists. Photo by VNA.
Vietnam's hotel industry has been slower to bounce back from the COVID-19 pandemic than that of other countries due to a series of factors, including strong reliance on the Chinese market.
Vietnam's hotel industry has been slower to bounce back from the COVID-19 pandemic than that of other countries due to a series of factors, including strong reliance on the Chinese market and a large pipeline of hotels, according to Savills Hotels APAC.
Globally, the hotel industry started 2023 off strong, with more than 60% of properties reaching 2019 revenue per available room (RevPAR) levels.
RevPAR growth was still predominantly driven by growth of room rates, with only a handful of countries exceeding 2019 occupancy.
In Southeast Asia, Singapore reached the highest RevPAR last year and this strength has continued in early 2023.
This was mainly due to stronger demand from business and leisure travel, especially pent-up demand for luxury accommodation from overseas visitors.
Following China's border reopening in early 2023, many countries are gearing up for the return of Chinese travellers.
In 2019, approximately 32 million Chinese travellers visited Southeast Asia, and the return of these guests will aid recovery in the region significantly.
"Vietnam experienced remarkable growth in the past ten years with international travellers increasing by 16.9% per year between 2009 and 2019," said Mauro Gasparotti, Director of Savills Hotels APAC.
"High demand boosted confidence in the sector, with a strong development pipeline. On average, about 10,000 rooms entered each year between 2017 and 2019," Mauro said. "This strong growth was interrupted by the pandemic, and it will take time to recreate the necessary momentum to reach pre-pandemic levels. Given the strong pipeline, even pre-pandemic, Vietnam needed 20% to 30% growth in annual demand to keep pace with new openings."
In the first two months of this year, the country welcomed 1.8 million international travellers, which is 40% lower than the pre-pandemic level. There were 560,000 Korean travellers and 148,000 from the US.
The domestic market continued to dominate with 20 million travellers.
The lack of the Chinese market imposes further challenges on the recovery of tourism.
In 2019, almost a third of Vietnam's 18 million foreign arrivals came from China and they dominated coastal destinations such as Nha Trang, where 70% of international travellers were Chinese.
The domestic and Korean markets supported the recovery of certain areas such as Da Nang, with some beachfront properties able to exceed 50% occupancy.
However, other destinations such as Nha Trang have been heavily affected by the drop in Chinese tourists and the significant number of openings in the past few years.
According to Savills Hotels statistics, Nha Trang provides 24,000 mid to luxury rooms, half of which entered the market between 2017 and 2019.
This destination may require greater joint efforts from business owners and local authorities to reposition its tourist image and catch international attention and demand.
"The resumption of Chinese tour groups from March 15 is good news, however, we shouldn't forget that excessive reliance on a single market is risky due to the notorious volatility of hospitality," Gasparotti said.
Certain cities have experienced significant recovery, particularly HCM City, where occupancy is fast reaching 2019 levels.
Uyen Nguyen, head of consultancy at Savills Hotels APAC, said, "though occupancy is improving, average daily rates are between 15% and 20% lower than pre-pandemic levels."
"But it is worth noting that in certain cases, luxury and boutique hotels that were well-positioned have reached or even surpassed 2019 rates," Uyen said.
Last year, drive-by destinations showed robust performance after the lifting of the national lockdown, but there has been a slight decrease since the beginning of this year. The reopening of borders has spurred demand for outbound travel. 
Despite intensifying competition, development prospects remain available for those who can effectively respond to market dynamics.
The market requires innovative products that can cater to the demands of both young domestic and international travellers, such as poshtels, entertainment-integrated complexes, limited-service accommodations, and co-living and co-working spaces.
Major cities and coastal destinations have promising prospects for ultra-luxury products, with branded residence offerings.
"There is a growing trend for wellness-related offerings that should be explored because this trend can manifest in various forms, from yoga and meditation retreats to senior living residences, medical tourism complexes, or nature-immersed resorts located in areas close to major cities," Uyen said.
"The market anticipates a shift towards quality, with a heightened emphasis on details that can contribute to the success and character of resort operations," she said.
Source: Vietnamplus
Same category news