Vietnam's export prowess turns to excess
Katrina Hamlin
Wednesday |

03/15/2023 12:30
---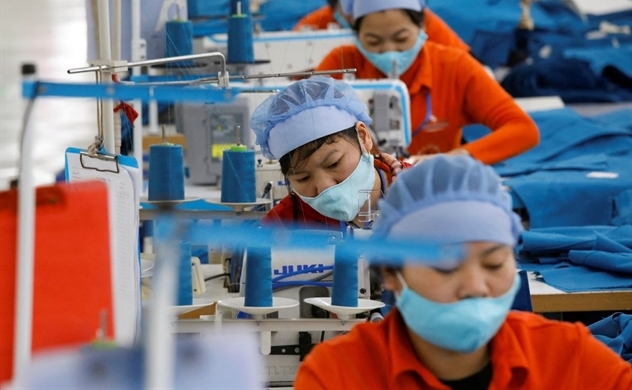 Women work at Hung Viet garment export factory in Hung Yen province, Vietnam December 30, 2020. Photo by Reuters.
Vietnam's economy rocketed up 8% last year as manufacturers like Samsung Electronics, LG and Hon Hai Precision Industry powered exports.
Now overseas demand is slumping amidst a local credit crunch and a corruption crackdown. Weak internal demand leaves the country without much of a hedge.
Vietnam has long served as a cheap alternative to China for companies outsourcing production. A trade agreement and warmer relations with Washington spared its manufacturers from tariffs and sanctions applied to its northern neighbour.
A combination of low labour costs and proximity to more sophisticated Chinese supply chains is alluring too. Foreign investment rose 13.5% to $22 billion last year as companies slapped "Made in Vietnam" on electronics, clothing and sneakers.
At $372 billion, gross export earnings now equate to a whopping 90% of output last year, government data shows; of its neighbours, only oil-producer Malaysia has ever approached such a level. Now overseas demand is stuttering.
The country lacks China's enormous consumer market; gross national income per capita was around $3,600 in 2021, compared to $12,000 in the People's Republic. While Vietnamese workers are more youthful than China's, they are older than peers in Indonesia and India, so the country's labour-cost competitiveness may not last.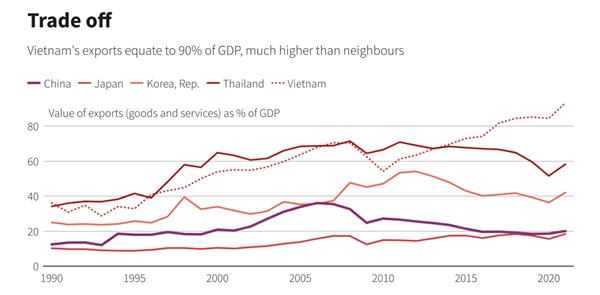 Source: World Bank/Graphic: Reuters.
In that context, signs of domestic stress are worrying. A long-running corruption crackdown that felled former president Nguyen Xuan Phuc in January should yield long-term benefits. It is disruptive now, however: paralysing the bureaucracy, trickling into the real estate sector and rattling the benchmark stock index. The campaigns have targeted business executives and thrown a wrench in supply chains including pharmaceuticals.
Manufacturers have lost some enthusiasm. The world's largest maker of branded sports shoes, Pou Chen, said last month it would cut some 6,000 jobs in Ho Chi Minh City, just two years after complaining it couldn't find enough workers. Political turbulence may be discouraging new money too. Registered foreign direct investment capital fell 38% in the first seven weeks of the year.
Most of Vietnam's neighbours, including China, reduced their dependence on exports by developing dynamic private enterprises that moved up the value chain and hiked wages: a virtuous cycle. However, the Party's predilection for concentrating investment in inefficient state entities will serve it ill, especially if FDI keeps cooling. If Hanoi really wants to compete with Beijing, it might have to change its ways.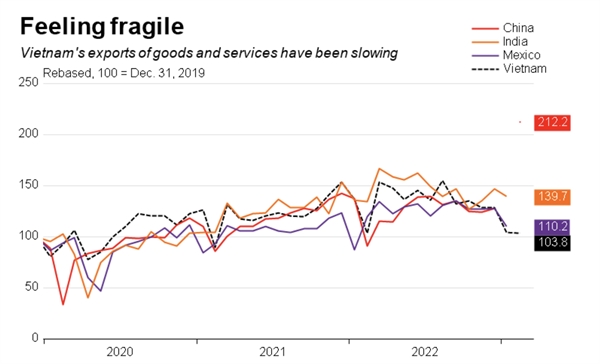 Vietnam's exports of goods and services have been slowing. Graphic by Reuters.
CONTEXT NEWS
Vietnam's economy grew 8.02% in 2022, the fastest annual pace since 1997, according to data released by the country's General Statistics Office on Dec. 29.
Vietnamese exports were flat in February and fell 23.4% in January compared to a year earlier, according to Refinitiv data released on March 9.
Source: Reuters
Same category news