Vietnam's Covid-19 patient tally hits 784, with 34 new cases
Khanh Minh
Friday |

08/07/2020 21:12
---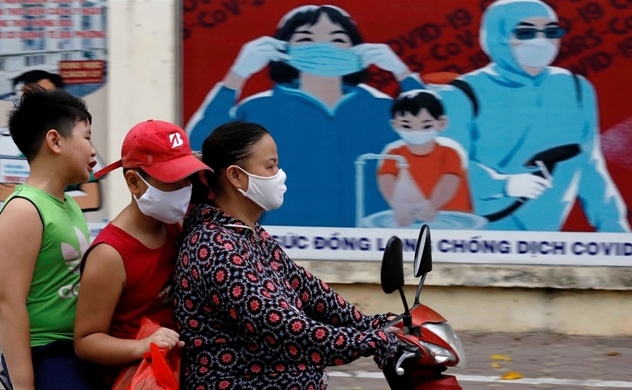 A woman wears a mask as she drives past a banner promoting coronavirus prevention in Hanoi on July 31. © Reuters
Thirty-four new Covid-19 patients were confirmed on Friday evening, including 32 linked to Da Nang outbreak, said the National Steering Committee for Covid-19 Prevention and Control.
The new patients include 22 in Da Nang, 8 in Quang Nam, one in Ha Noi, one in Hai Duong and one Philippine national.
Patient 753, a Filipino man, 30, is linked to the flight number CX906 of Cathay Pacific from Philippines to Tan Son Nhat International Airport, transiting in Hong Kong.
He was quarantined and tested upon arrival. The patient is being treated at the Cu Chi field hospital in Ho Chi Minh City.
Patient 751 is a 45-year-old man from Cam Ranh Town, central Khanh Hoa Province.
On July 23, he went to Hanoi and meet his wife and kid, who live in Da Nang's Son Tra District, in the capital. He developed fever on August 1, and was admitted to the General Hospital of northern Hai Duong Province three days later.
His test results were positive for the novel coronavirus. The man is being treated at General Hospital of Tropical Diseases 2 in Hanoi.
Patient 752 is a 30-year-old woman in Phuc Tho District, Hanoi. She traveled to Da Nang with her family from July 24-26.
On August 2, she developed a fever and cough. She is tested positive with the coronavirus. She's being treated at General Hospital of Tropical Diseases 2 in Hanoi.
Patient 754 is a 30-year-old man coming from the gas ship Texiana from Qatar, which docked at Vung Tau Port on July 28. He was quarantined upon arrival. He was confirmed positive with Covid-19.
He is being treated at Ba Ria Hospital in southern Ba Ria - Vung Tau Province. There were nine other Covid-19 patients coming from the ship.
Patients 755 - 771, and 780-784 are from Da Nang.
Patients 772-779 come from central Quang Nam Province. All eight patients of Quang Nam are being treated at General Hospital of Quang Nam.
Earlier the same day, the Committee, led by Deputy Prime Minister Vu Duc Dam, said three more patients had been cleared of the virus, raising the total recoveries to 395.
The newly recovered cases are patients numbered 387 (a 25-year old man hospitalzed on July 19), 410 (a 37-year old man admitted to hospital on July 23), and 412 (a 49-year old man, admitted to hospital July 23).
The country's patient tally includes 10 deaths.
At present, 178,451 people are under medical surveillance, including 5,870 at hospitals, 24,106 at centralized quarantine facilities, and 148,475 at places of residence.
Source: VnExpress, VGP
Same category news
NYT | Chau Doan, Livia Albeck-Ripka