Vietnam's Covid-19 death toll raises to 15, no new infection reported on Tuesday morning
VOV
Tuesday |

08/11/2020 08:06
---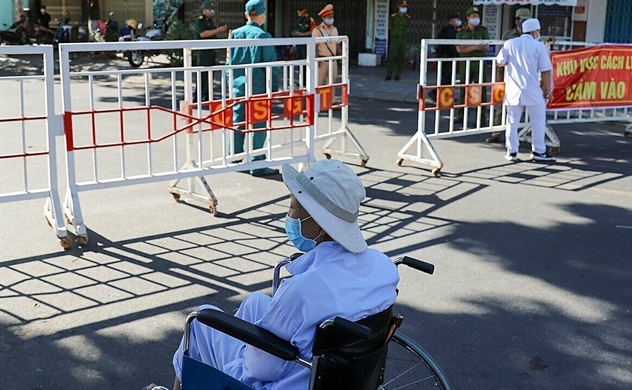 A kidney patient waits outside Da Nang Hospital, which is currently under lock down, for his dialysis process, July 2020. Photo by VnExpress/Nguyen Dong.
Vietnam confirmed no new coronavirus cases but two more deaths during the past 12 hours, raising the death toll to 15, the Ministry of Health said in its update on August 11.
The country has recorded a total of 847 COVID-19 cases, including 318 returnees from epidemic hit countries.
As many as 389 locally transmitted cases have been registered since the resurgence of the virus in Da Nang in late July. COVID-19 has since spread to 15 cities and provinces across the country, with Da Nang City remaining the epicenter of the outbreak.
The Ministry of Health confirmed the 15th fatality at midnight August 10, a 68-year-old man who died of kidney failure and COVID-19.
The patient, a resident of Quang Nam province, suffered from chronic kidney failure, pulmonary metastasis, and diabetes (Type II).
Just few hours earlier, a resident of Da Nang also died of end-stage kidney failure and COVID-19.
As a result, four deaths were announced on August 10 alone, bringing the country's coronavirus death toll to 15.  
Most of the deaths were between 53 and 86 years old that suffered from underlying illnesses such as heart, cancer, chronic kidney failure, diabetes, hypertension and COVID-19. Covid-19.
Renal failure is the most common underlying illness among fatal COVID-19 patients. Statistics show 11 out of 15 fatalities had chronic kidney failure.
On Monday evening the ministry confirmed six new cases and the 14th death related to COVID-19.
The causes of his death included COVID-19 acute pneumonia, and end-stage chronic renal failure. August 10 alone saw Vietnam record three fatalities, all from Da Nang hotspot.The deceased was a 66-year-old Da Nang resident who was diagnosed with end-stage chronic kidney failure and repeatedly cardiac arrest at Da Nang Hospital.
Source: VOV
Same category news
NYT | Chau Doan, Livia Albeck-Ripka