Vietnam to buy electricity from ASEAN's largest wind farm in Laos
Xuan Thinh
Tuesday |

07/13/2021 18:11
---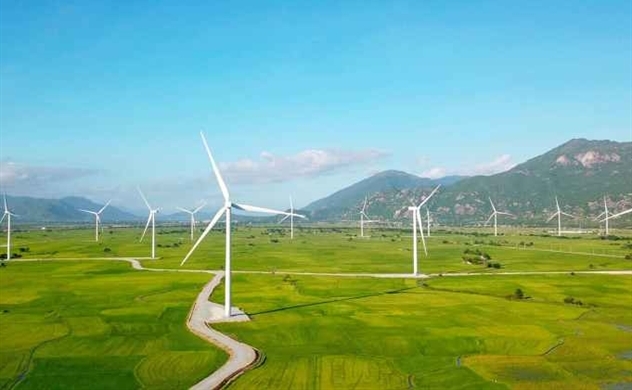 Illustrative. Vietnam wind farms are attracting investors from across Asia. Photo: interestingasia.com
Thai renewable energy firm BCPG Pcl announced that its consortium Impact Energy Asia Development Limited had signed a 25-year agreement to deliver wind energy from a 600-megawatt project in Laos to Vietnam.
Vietnam Electricity has agreed to buy wind power from the Monsoon Wind Project in Laos, a project to be developed by Impact Energy Asia Development Limited.
According to the agreement, the renewable power firm will supply electricity through a 500-kilovolt transmission line from Laos to Quảng Nam province in Vietnam.
Construction of the Monsoon Wind Project will commence in 2022 with commercial operations targeted for 2025, statement said. This will be the Association of Southeast Asian Nations' largest wind farm.
The project will also be the region's first cross-border wind energy project. The wind farm will be located in the Sekong and Attapeu provinces in Southern Lao PDR and the wind farm will deliver green energy from Lao PDR to Central Vietnam.
The ASEAN's largest wind farm is projected to save over 35 million tonnes of greenhouse gas over its lifetime, a meaningful boost to the ambitious global effort to achieve net-zero by the middle of the century.
The project also enhances Vietnam's grid stability as the majority of the project's electricity will be generated during the dry season, which is complementary to the Vietnam's existing supply of hydropower electricity that is generated mostly during the wet season.
Impact Energy Asia Development Limited has been developing the Monsoon Wind Project since 2011 in the Sekong and Attapeu provinces of Lao PDR. Paradai Suebma, Chairwoman of IEAD, commented that "While many tasks remain to be fulfilled, the signing of ASEAN's first cross-border PPA marks a symbolic collaboration between Lao PDR, Vietnam, Japan, and Thailand to work towards the global quest of net zero-emissions."
Impact Energy Asia Development Limited is a partnership between Impact Wind Investment Limited, which holds 55%, and BPCG Public Company Limited, a leading renewable energy company in Thailand and Asia-Pacific, which has 45%.
Impact Wind Investment Limited is owned 43% by Mitsubishi Corporation, a global integrated business enterprise in Japan, and 57% by an affiliate of Impact Electrons Siam Company Limited, a privately-owned Thai regional renewable energy development company.
Source: BPCG Public Company Limited
Hot news of the day