Vietnam should attract FDI for sectors in need: experts
Thanh Ha - Bao Ngoc
Wednesday |

05/24/2023 13:33
---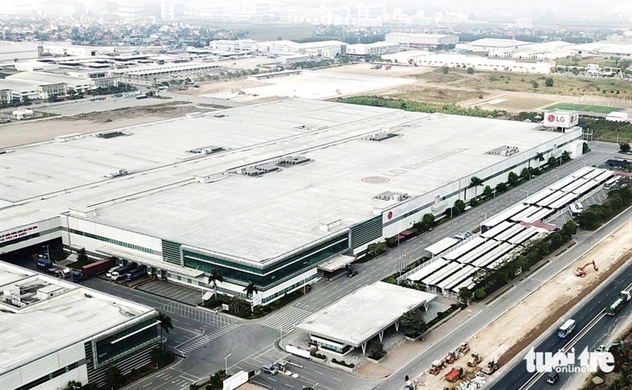 A $7-billion electronic product manufacturing complex of LG Group in Hai Phong City, northern Vietnam. Photo by Nam Tran/Tuoi Tre.
The selection of FDI once again makes headlines and local economic experts agree that the country should attract such investment in sectors that it wants to develop.
It is not easy to choose FDI projects based on the criteria of capital or technology, economists said.
Vietnam should work out strategies to woo FDI in desired sectors and should not pay much attention to how much the investment is, said Dr. Pham Hung Tien, deputy director of the Friedrich Naumann Foundation in Vietnam.
Amid the digital transformation, e-commerce enterprises with small capital can still get involved in certain segments.
Therefore, the country needs to take the initiative in attracting FDI, Tien stressed.
"We should say no to some FDI projects based on Vietnam's commitment to net-zero carbon emissions by 2050 at COP26 [in the UK in 2021] and those going against [the country's] green economy and zero carbon plans," said Do Van Su, deputy head of the Foreign Investment Agency under the Ministry of Planning and Investment.
"FDI is like a two-side coin with positives and negatives but it has become an indispensable part of the economy.
"It is needed to attract expected FDI flows which can contribute positively to the economy and large groups to invest in hi-tech, develop value chains, and cause an impact on domestic enterprises in a win-win manner."
Large FDI projects are always better, said Nguyen Van Toan, vice-chairman of the Vietnam's Association of Foreign Invested Enterprises.
The country should also have strategies to lure FDI investors with advanced technology.
In reality, some large FDI firms enter Vietnam with their satellite companies, which are normally small or micro.
However, it is important to require such enterprises to do business legally and not to abuse incentives to compete with domestic firms, Toan said.
Most FDI enterprises in Vietnam are classified as small- and medium-sized in terms of capital, employment, and revenue, according to the Provincial Competitiveness Index-FDI 2022 survey conducted by the Vietnam Chamber of Commerce and Industry (VCCI) on nearly 1,300 FDI enterprises in 51 localities across the country.
The survey indicated that nearly 83 percent of the FDI firms in Vietnam has capital below VND100 billion ($4.2 million) each, a quarter employ fewer than 10 laborers each, and 57.4 percent have fewer than 50 workers each, VCCI general secretary Dau Anh Tuan told Tuoi Tre(Youth) newspaper.
As for revenue, nearly a quarter of the survey respondents said they earned less than VND3 billion ($127,299) each and 77.8 percent generated below VND100 billion ($4.2 million) each last year.
FDI flowing into Vietnam over the past three years has shown signs of stagnation, Su from the Foreign Investment Agency said.
Vietnam attracted nearly $8.88 billion in FDI in the first four months of this year, equal to 82.1 percent of the figure in the same period last year.
Of the total, some $5.85 billion was disbursed, edging down 1.2 percent year on year.
The average capital poured into an FDI project in Vietnam was some $15-16 million, according to data from the Foreign Investment Agency.
The number of FDI projects increased but the total registered capital fell due to a reduction of large projects.
Source: Tuoi Tre News