Vietnam reports 7th patient recovering from novel coronavirus
Luu Van Dat
Wednesday |

02/12/2020 14:30
---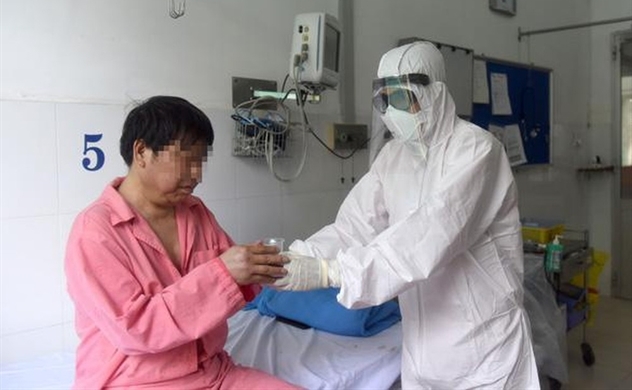 Li Ding, Chinese national patient is seen during treatment in Cho Ray Hospital. Photo: Duyen Phan/ Phapluatnet.vn
Chinese national Li Ding, 66 years old, one of first two coronavirus patients in Vietnam, has recovered from the illness and was scheduled for leaving hospital, Ministry of Health says.
Chinese citizen Li Ding was hospitalized in Ho Chi Minh City-based Cho Ray Hospital together with his son Li Zichao, 28 years old, on January 20. They were the first two infected cases found in Vietnam.
His son, who had recovered after a few days of treatment, was discharged on February 4th following four tests giving negative results.
The 66-year-old Chinese patient recovered completely and expected to be discharged from the hospital soon, the ministry cited Director of Cho Ray Hospital Nguyen Tri Thuc in a statement.
Li Ding and his wife travelled to Vietnam from China's Wuhan city, where the Covid-19 virus has been killing a thousand people. The couple visited Nha Trang together with their son Li Zichao and stayed there for a few days. They took train to Long An, then returned to Ho Chi Minh City to examine at Cho Ray hospital.
In Nha Trang, Li Zichao and his father transmitted the disease to a female receptionist at his hotel. The female patient had been quarantined in a hospital in Khanh Hoa, and had been discharged from the hospital.
Vietnam has reported 15 positive cases with the youngest patient is a three-month-old. Seven of the patients have recovered from the illness.
Vinh Phuc is the locality with the most patients, with 10 people while Ho Chi Minh City reported three infected, Khanh Hoa saw one and the rest in Thanh Hoa. Of the 15 infected, the youngest patient is a 3-month-old baby.
As of Wednesday afternoon, 45,188 people found infected the disease and 1,116 were killed globally. Most of the fatalities and infected were recorded in China.
► Coronavirus costs Vietnam's aviation sector at least $418 million
► Vietnam reports 15th new coronavirus patient, a three-month-old baby
► Vietnam succeeds in cultivating Wuhan coronavirus, a step toward quick test and vaccine
Hot news of the day