Vietnam prepares for largest-ever coronavirus vaccination campaign
Bich Phuong
Thursday |

02/25/2021 10:42
---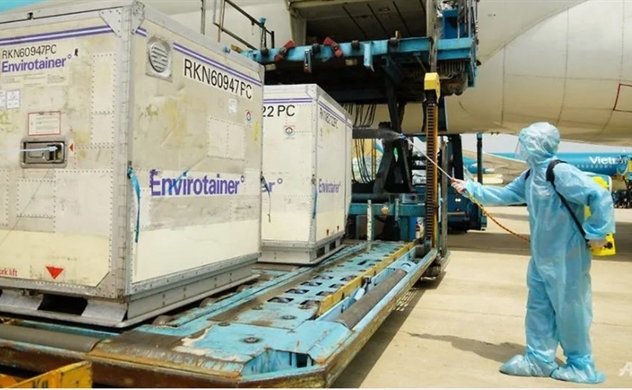 A health official sprays disinfectant on the first batch of AstraZeneca COVID-19 vaccine shipment after its arrival at the Tan Son Nhat airport on Feb 24, 2021. (Photo: AFP/Phu Nguyen)
Vietnam is preparing for largest-ever vaccination program against coronavirus after the first COVID-19 vaccine batch arrived, Minister of Health Nguyen Thanh Long told Wednesday meeting chaired by Prime Minister Nguyen Xuan Phuc.
The country will soon have 100 million doses of COVID-19 vaccine for the program. The minister suggested the government to mobilize all units inside and outside the health sector including military, police and other forces to participate in this process to accelerate the vaccine injection progress.
Regarding the COVID-19 vaccine importation, the ministry reported the proposal to the Government on the progress of vaccine purchase this year. The country will import 1.3 million does in the first quarter, 9.5 million doses in second quarter, 25.9 million doses in the the third quarter, and 51.1 million doses in the final quarter of  this year.
Under this plan, Vietnam will have about 90 million doses of vaccine, ensuring vaccination for all people this year.
Regarding vaccine sources, Minister Nguyen Thanh Long said the ministry has approved a number of enterprises to import the vaccine. COVAX will supply Vietnam 30 million doses this year, while Astra Zeneca will deliver 30 million doses, and Pfizer can provide 30 million doses.
With the Russian vaccine, the Ministry of Health said, initial information showed that a Russian company can provide up to 60 million doses for Vietnam.
Vietnam reported no new COVID-19 infection on Thursday morning. Number of local infections since January 27 stood at 820. Most of the patients were found in Hai Duong province, according to Ministry of Health.
Hot news of the day