Vietnam confirms 30 new Covid-19 cases, patient tally increases to 747
Kim Anh
Thursday |

08/06/2020 21:19
---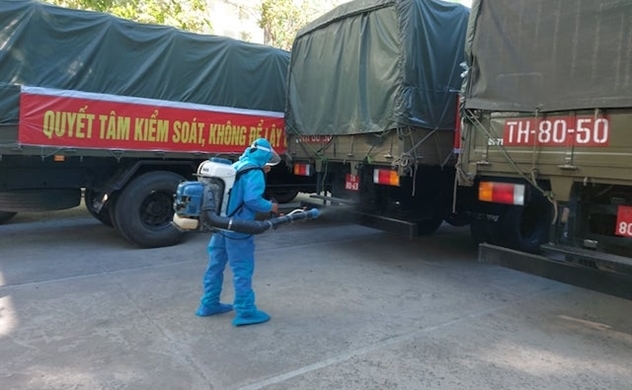 Photo: suckhoedoisong.vn
The National Steering Committee for Covid-19 Prevention and Control confirmed 30 new Covid-19 cases this afternoon, bringing the patients tally to 747.
The latest cases include 20 in Da Nang, six in Quang Nam, one in Bac Giang and three citizens returning from Qatar.
Specifically, patient 718 is a 67-year old woman living in Da Nang. Earlier the same day, Deputy Minister of Health Nguyen Truong Son confirmed that she lost her life to type 2 diabetes, sepsis, multiple myeloma, and Covid-19.
Patients 719-730 and patient 730 are residents of Quang Nam, aged between 30 and 51. Of these, two were patients, three others came in contact with people who were later tested positive for the virus and the remainder was patient caretaker at the Da Nang Hospital.
The above four patients are being treated at the Quang Nam General Hospital.
Patients 724-729 and 731-743 are residents of Da Nang, aged between one to 69. They include nine having contact with people were later tested Covid-19, three patient caretakers, and one health worker.
Patient 744 is a 7-year old girl from the northern province of Bac Giang. She travelled to Da Nang with other two persons who have been confirmed infected with Covid-19.
Patients 745-747 work for a vessel transporting gas from Qatar to Ba Ria-Vung Tau on July 28. They are being treated at the locality's Long Dien District Medical Center.
As reported earlier, the Ministry of Health confirmed two Coronavirus-related deaths on Thursday, raising the fatalities to 10.
The same day, the National Steering Committee reported that 11 Covid-19 patients have been cleared of Covid-19, raising the recoveries to 392. They are patients numbered: 374 (35-year old man), 376 (35-year old man), 377 (32-year old man), 378 (35-year old man), 379 (31-year old man), 380 (30-year old man), 381 (55-year old man), 382 (64-year old man), 384 (27-year old man), 403 (55-year old man), 408 (42-year old man).
Source: VGP
Same category news
NYT | Chau Doan, Livia Albeck-Ripka