Three North-South Expressway segments face funding difficulties
Dat Nguyen
Tuesday |

10/12/2021 14:19
---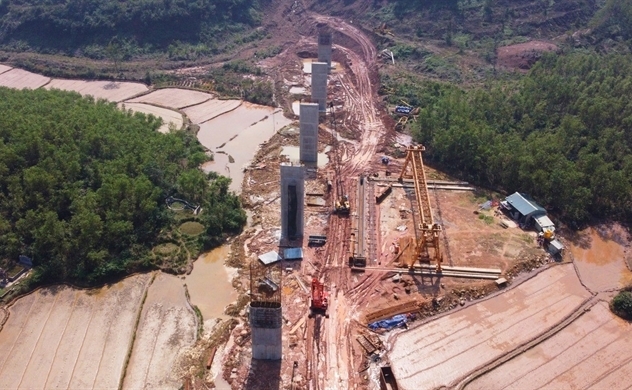 Construction of the Cam Lo - La Son Expressway, one of 11 sections of the North-South Expressway. Photo by VnExpress/Vo Thanh
Three sections of the North-South Expressway to be built by public-private partnerships are facing trouble mobilizing funds from banks.
Though bidding and negotiations for the three finished in July, their contractors are having difficulty negotiating a risk-sharing mechanism with banks, according to a government report on the expressway progress.
Now they are looking for other sources of funds, including issuance of bonds.
The three sections connect the provinces of Nghe An and Ha Tinh, Nha Trang and Cam Lam in Khanh Hoa Province and Cam Lam and Vinh Hao in Binh Thuan Province.
They are part of 11 sections that make up the expressway, with the government funding the other eight.
Construction of the latter is 25 percent complete amid challenges caused by the fourth wave of Covid-19 as some workers contracted the disease and work had to stop in some places.
When finished the expressway will run 654 kilometers through 13 localities, linking up with the existing expressways to form a network of over 1,000 kilometers.
The total price tag is VND97.67 trillion ($4.29 billion), down 8.5 percent from an earlier estimate mostly thanks to lower costs of the PPP sections after bidding.
Source: VnExpress