Latest coronavirus wave hurts nearly 13 million people in Vietnam
Xuan Thinh
Tuesday |

07/06/2021 19:09
---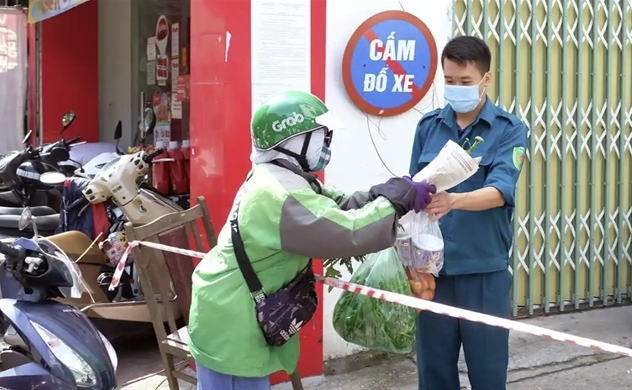 A man receives food supplies inside a quarantine area in Hanoi, Vietnam, on 26 May. Photograph: Luong Thai Linh/EPA
Some 12.8 million workers have been hit by the COVID-19 pandemic in the second quarter this year, according to Nguyen Trung Tien, Deputy General Director of the General Statistics Office.
The latest COVID-19 outbreak has affected the momentum of job restoration and income improvement of workers in the second quarter of 2021. Among the affected people, 75 percent are in the 25-54 age group, either lost their jobs, had their work hours cut or income lowered due to the pandemic.
Compared to the first quarter of 2021, there have been additional 3.7 million workers hit by the pandemic, the General Statistics Office reported. Workers in urban areas suffered more damage than in rural areas. About 21.9% of workers in urban areas are adversely affected, while this figure in rural areas is 14.3%.
Employed workers in the agriculture, forestry and fishery sectors were least affected by the pandemic, with only 8.9% of workers in this sector reporting they were negatively affected by the pandemic.
In second place are workers in industry and construction with 24.6% affected. Labor in the service sector was hardest hit, with a rate of 30.6%.
Thus, the overall unemployment rate and the unemployment rate of working-age workers are still only hovering around 2% even though the COVID-19 epidemic continues to spread and impact more severely.
According to the research, the fourth COVID-19 epidemic, which is spreading quicker and proving more difficult to manage, has raised employment shortages in the city to 2.8 percent, compared to 2.49 percent in the rural.
The national unemployment rate increased by 7.3 percent in the first quarter to 1.2 million in the second quarter, while average monthly income decreased by 3.8 percent to VND6.1 million ($264).
Hot news of the day