Ho Chi Minh City's industrial parks face severe labor shortage
Bich Phuong
Wednesday |

10/06/2021 11:28
---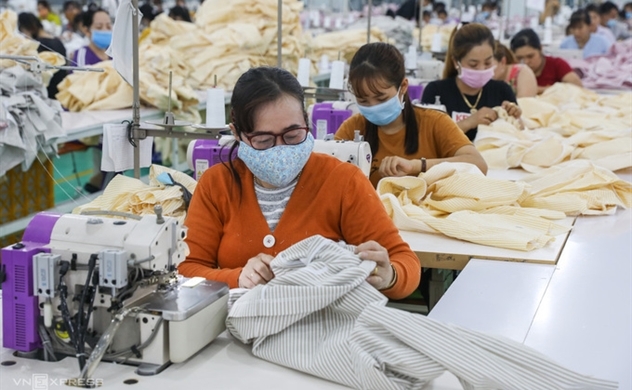 Photo: VnExpress
The Government of Ho Chi Minh City sent message inviting workers to return the city to resume working as half of labor force at industrial parks opted to travel to their hometown.
The total number of workers in export processing zones and industrial parks in the city remains 135,000, about 46% of the previous figure, according to statistics released by Deputy Head of the Ho Chi Minh City Steering Committee for COVID-19 Prevention and Control Pham Duc Hai during a press meeting on Monday.
Therefore, factories in the city face serious labor shortage. Enterprises are reviewing to continue recruiting worker to maintain operations.
October 1st, the city had about 288,000 workers in industrial parks and export processing zones in the city. However, after the day, number of employees fell sharply.
As for workers in the Hi-Tech Park, before October 1, there were about 50,000 employees, of which 25,000 laborers worked under on-site sleepover regime. Out of the amount, there are about 10,000 workers living in Binh Duong, Dong Nai. After October 1, number of workers continued to decrease.
A survey by the Center for Human Resource Demand Forecasting showed that in third quarter, there were more than 42,700 people looking for job. Enterprises' labor demand in the city was between 43,600 and 58,800. In the fourth quarter, enterprises in the city will need 56,000 employees, said Nguyen Quang Lam, deputy director of the Ho Chi Minh City Department of Labor, War Invalids and Social Affairs.
According to the latest statistics, 3 days after Ho Chi Minh City eased the social distance, there were 5,279 businesses registered to operate again. Many other businesses are preparing human resources, machinery, equipment and facilities to continue opening and reopening.
Workers who have returned to their hometown will receive a message inviting them to continue working in the city. Conditions to return to work will follow the safety criteria of the enterprise such as vaccination, testing ...
Along with that, the Department is also speeding up support for the 3rd phase so that workers can feel secure in staying in the city for a living.
Currently, more than 1.1 million disadvantaged people in Ho Chi Minh City have received support for the 3rd phase, it is expected that on October 15, the city will complete the 3rd phase of spending to more than 7.3 million people.
Latest news