Ho Chi Minh City imposes 15-day social distancing
Quang Minh
Monday |

05/31/2021 09:41
---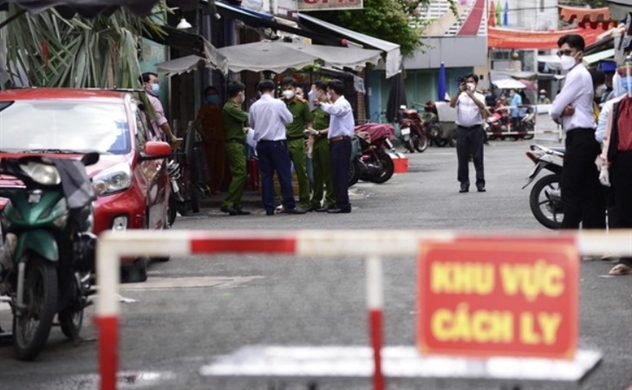 Photo: VGP
Ho Chi Minh City People's Committee has decided to impose 15-day social distancing in the entire city, starting from May 31.
The decision was made this morning at an urgent meeting on COVID-19 response, with the attendance of Deputy Prime Minister Truong Hoa Binh who was assigned to oversee the COVID-19 pandemic fight in the southern metropolis.
Under Directive No. 15, issued on March 27, 2020, all events and meetings with more than 20 participants in a room shall be banned.
A gathering of 10 people and more outside public offices, schools and hospitals is not allowed.
People are required to keep a distance of at least two meters from each other in public places while all service establishments are required to close, except for those selling essential goods and services.
Travel will be restricted from pandemic-hit areas to other localities.
The municipal People's Committee also decided to impose 15- day social distancing in Go Vap district and Thanh Loc ward of district 12 in accordance with the Government's Directive No. 16/CT-TTg.
Directive No. 16, issued on March 31, 2020, specifies higher level of social distancing, requiring people to stay at home and only go out if really necessary.
The directive bans the gathering of more than two people outside public offices, schools, hospitals and public places.
Ho Chi Minh City is one of the 34 localities being hit by the current fourth COVID-19 wave. As of 12:00 am on May 30, the city recorded 108 positive cases, most of them linked to the Revival Ekklesia Mission in Go Vap district.
Speaking at the national online meeting on Saturday, Prime Minister Pham Minh Chinh urged subordinate levels to double efforts to contain and push back COVID-19 outbreaks in key hotspots like Bac Giang, Bac Ninh, Ha Noi, and Ho Chi Minh City to ensure socio-economic development.
The Government chief tasked Deputy Prime Minister Truong Hoa Binh and Deputy Prime Minister Le Van Thanh to respectively direct COVID-19 prevention and control in Ho Chi Minh City, and Bac Giang and Bac Ninh. 
Source: VGP
Hot news of the day