Fruit and vegetable exports skyrocket in first four months
Thai Binh
Thursday |

05/13/2021 23:55
---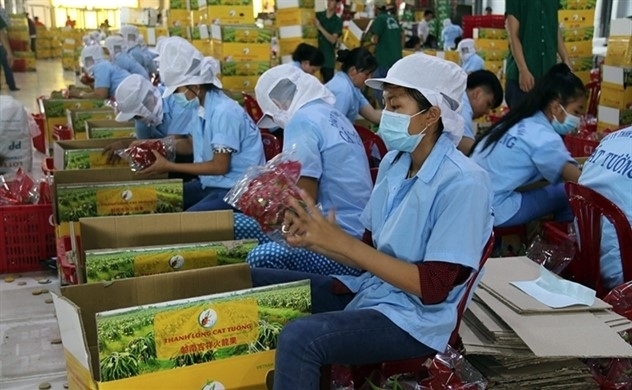 Vietnam's fruit and vegetable exports proved a bright signal after the sector raked in $1.35 billion in the past four months of 2021, up 9.5%, according to latest data from agriculture ministry.
In April alone, the country bagged $380 million from fruit and vegetable exports, raising the total export value in the reported period to $1.35 billion.
The figures were lower than $610 million export revenue in the first 2 months of the year. With this positive signal, fruit and vegetable product is growing with many hopes for a strong breakthrough in the whole year 2021.
China remained as the biggest importer of Vietnamese fruit and vegetables during the first quarter, accounting for 64.7% of the overall market share as exports to the country reached $610.8 million, up 16.2% from a year earlier. Strong export growth was also recorded in the Ukrainian market, which represented a 7-fold increase.
Vietnam's fruit and vegetable exports recorded a diversified market. In January, 2021, China also ranked first in the fruit and vegetable import market of Vietnam with 59.1% of market share, reaching $182.9 million, up 5.4% over the same period in 2020.
Fruit and vegetable exports achieved positive results, so it is completely possible to expect export turnover of these products to grow this year.
Fruit and vegetable processing industry has many advantages to increase production and export turnover thanks to the signed free trade agreements, said Mr. Dang Phuc Nguyen, General Secretary of the Vietnam Fruit and Vegetable Association.
Several types of vegetables and fruits from Vietnam have fully met the strictest criteria of high quality markets such as the US, EU, Japan, creating confidence for international importers, Nguyen said, adding that the industry needs to focus on improving product quality, ensuring the material origin, food safety on the basis of building planting areas in VietGAP, Global GAP standards, processing factory certified with ISO.
Recently, Louis Holdings Joint Stock Company has developed a processing plant named Toccoo in Long An province. This factory will focus on producing and bringing the world's consumer the products from the mainly agricultural products of Long An Province and the surrounding area such as dragon fruit, jackfruit, pineapple, and mango.
With a capacity of 4 tons per hour, each year the factory is expected to produce 15,000 to 20,000 tons of products.
The VND250-billion factory was built on the land of the corporation with an area of 17,155 square meters. The factory's annual revenue target was expected to reach VND800-1,000 billion.
Although being built and put into operation in the difficult time when the export sector of agricultural product is facing difficulties due to the COVID-19 pandemic, said Mr. Huynh Quang Vinh, General Director of Louis Holdings.
"There is always an opportunity in danger. We saw double-digit growth in Vietnam's vegetable and fruit processing annually," said Vinh, adding Toccoo Factory will focus on European, American, Japanese, Korean, Australian markets.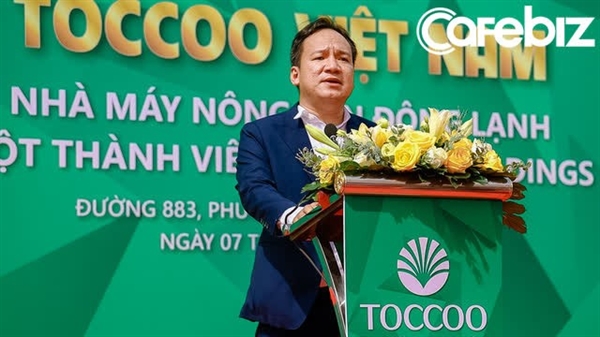 Mr. Huynh Quang Vinh, General Director of Louis Holdings say: "The factory can be officially put into operation in July 2021".
Vietnam to bag $10 billion from fruit and vegetable exports by 2030
Toccoo Factory is expected to contribute to Vietnam's fruit and vegetable export target of $8-10 billion from in 2030 and revenue from processed products will account for at least 30% of the total.
Under a project to develop the fruit and vegetable process sector during 2021-2030 recently approved by the Prime Minister, Vietnam targets to attract investment in 50-60 fruit and vegetable processing establishments, and build several modern groups and enterprises who have good competitive capacity.
With a view to achieving the goals, Vietnam will invest heavily to improve processing ability, give priority to processing key fruits and vegetables which have high values, set up material zones, and develop markets for the products, according to the Vietnam News Agency.
The project laid stress on the necessity to build processing and packaging facilities and storage warehouses and install suitable equipment to reduce post-harvest losses.
Besides, it is crucial to attract investment to ensure that all of the production facilities will be well equipped with necessary machines by 2030.
Along with encouraging businesses to invest in food irradiation centres at large-scale fruit and vegetable farming areas so that their products meet international standards, the country will promote intensive processing and diversify processed products.
Additionally, the country will establish specialized fruit and vegetable cultivating areas which are able to provide some 5-6 million tonnes of high-quality products for processing by 2030.
Hot news of the day