Foxconn plans to build $1.3 bln industrial park in Thanh Hoa
Xuan Thinh
Monday |

01/18/2021 10:26
---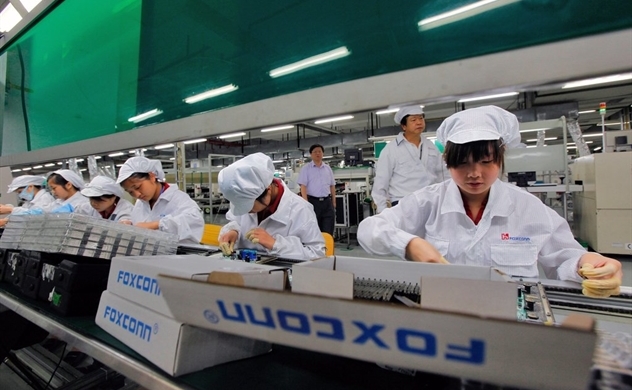 Foxconn expects $40 billion revenue in Vietnam in the mext five years. Photo: NYT
Foxconn is seeking approval to build a 150-hectare industrial park in Thanh Hoa province, where it will develop manufacturing factories.
The world's largest contract electronics manufacturer, key Apple supplier, which has more than 100 companies and branches in several countries, has factories in Bac Ninh and Bac Giang, VietnamFinance cited information from a recent meeting between the provincial People's Committee and the tech firm's leaders. 
Last year, Foxconn reported total revenue at $210 billion. Revenue in Vietnam was $6 billion, accounting for 3 percent and relatively modest compared to its global revenue.
In the next five years, Foxconn targets to increase its Vietnam revenue to $40 billion and open more factories in several provinces and cities of Vietnam, including Thanh Hoa province.
The under-planned industrial park is expected to generated an export revenue at about $10 billion per year, hiring 100-150,000 labors. 
► Vietnam beats China, India to become next manufacturing hub in Asia
► Foxconn plans $325mln affordable housing project for workers in Vietnam
► Foxconn introduces the first batch of displays made in Vietnam factory
Same category news