Cases of human-to-human transmission of coronavirus jump in Vietnam, infection tops 44
Xuan Thinh
Thursday |

03/12/2020 19:33
---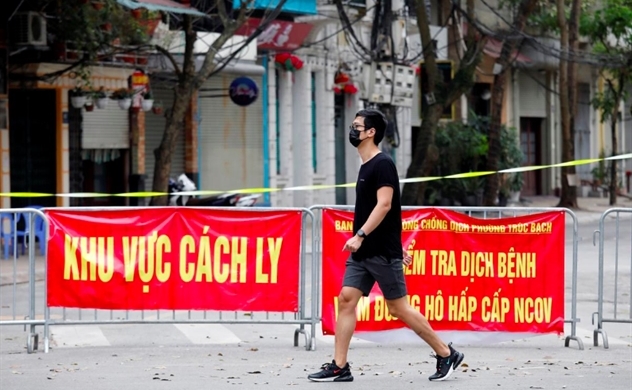 FILE PHOTO: A man wearing protective mask walks near the house of a coronavirus infected patient, at a quarantined street in Hanoi, Vietnam March 10, 2020. REUTERS/Kham
Number of people diagnosed with new coronavirus who had locally human-to-human transmission increased rapidly recently despite the government is bracing for the coronavirus outbreak.
As of Thursday evening, Ministry of Health confirmed five more COVID-19 infected cases, raising total people diagnosed with the virus to 44.
Remarkably, all of the new virus bearers are local residents who contracted the disease from a 51-year old native of Binh Thuan province returning home from the US. The woman, the 34th coronavirus patient in Vietnam, who was tested positive with the virus had met several people.
The new patients were confirmed after health officials from Pasteur Institute of Nha Trang tested 56 people who had had close contact with the woman.
The latest people diagnosed with new coronavirus includes a 2-year old baby, a 59-year old man, a 28-year old man, a 47-year old woman, and a 13-year old child. All of them live in Binh Thuan province.
Earlier, a 25-year old tour guide, who lives in Hanoi was found to have contracted the virus from foreign visitor from England who was tested positive for the virus.
Also in Binh Thuan province, three patients were diagnosed with the virus after have close contact with the 51-year old woman, who returned Vietnam from the US, transiting in Qatar airport.
Earlier, a sale woman at Mobile World Group's Dien May Xanh shop in Da Nang contracted coronavirus after having close contact with two British nationals who shared the Vietnam Airlines' flight VN0054 with Nguyen Hong Nhung, the 17th coronavirus patient in Vietnam.
Of 44 patients, 16 recovered and were discharged. Here is list of current 28 patients:
1. Nguyen Hong Nhung, 26-year old woman from Ha Noi, returning home from the UK on March 2 (17th patient).
2. A 27-year old man, native of Thai Binh, returning home from South Korea on March 4.
3. Two patients having been in close contact with Nhung
4. A 61-year old man who was on the same flight VN005 with Nhung
5. Eleven foreign nationals, including 10 British citizens and one from Ireland.
6. A 24-year old woman who met Nhung on February 27 in London, the UK
7. A 51-year old woman returning home from the US on March 2 (34th patient).
8. A 29-year old woman having been in direct contact with two British patients (35th patient)
9. A 64-year old woman (reported to have been in close contact with 35th patient)
10. A 37-year old woman (reported to have been in close contact with 35th patient)
11. A 28-year old man (reported to have been in close contact with 35th patient)
12. A 25-year old tour guide (reported to have been in close contact with foreign COVID-19 patient in Quang Ninh province)
13. A 2-year old baby
14. A 59-year old man
15. A 28-year old man
16. A 47-year old woman
17. A 13-year old child
► Vietnam posts larger trade surplus despite coronavirus fears
► Mobile World Group's employee contracts coronavirus, infection tops 35 in Vietnam
► Visa exemption for 8 European countries to be halted since March 12
Source: VGP, Ministry of Health