Asian markets take breather from banking turmoil, capping tumultuous week
Stella Qiu
Friday |

03/17/2023 13:11
---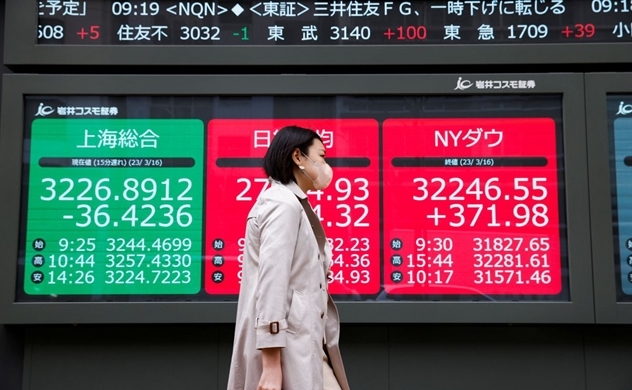 A woman walks past an electronic board showing world benchmarks outside a brokerage, in Tokyo, Japan. Photo by Reuters.
Asian markets extended a risk rally on Wall Street on Friday to end a tumultuous week.
Asian markets saw a brewing banking crisis send bond yields plunging while market participants sharply lowered expectations of future interest rate hikes in Western economies.
Overnight, the European Central Bank (ECB) delivered an inflation-fighting 50 basis point rate hike in line with oft-repeated guidance, with sentiment buttressed by the Swiss National Bank's massive support for Credit Suisse Group AG, which sent the troubled lender's shares 20% higher.
Further helping sentiment, as many as 11 U.S. banks including JPMorgan Chase & Co will deposit as much as $30 billion into First Republic Bank. Investors welcomed the move by sending the stricken lender's stock 10% higher.
MSCI's broadest index of Asia-Pacific shares outside Japan rose 0.9% on Friday, erasing earlier losses this week. Japan's Nikkei climbed 0.5%.
China's bluechips increased 0.8% and Hong Kong's Hang Seng Index surged 1.2%.
S&P 500 futures eased 0.1% and Nasdaq futures were flat after major U.S. stock indices rallied hard on easing fear of a global banking crisis. 
Meanwhile, global central bankers on Thursday introduced what market watchers interpreted as an emerging effort to firewall the rate increases needed to fight inflation from separate efforts to calm concern about financial stability.
"The ECB is trying to draw clear lines between its inflation fight and its job of maintaining financial stability. This is a theme other central banks are likely to echo," said James Rossiter, head of global macro strategy at TD Securities.
"It is rare that financial turmoil emerges in such a high-inflation environment, and while tighter financial conditions come at a convenient time for inflation-fighting central banks, they are unlikely to believe that tighter financial conditions alone will be enough to return inflation to target."
After hiking as indicated, the ECB refrained from providing a forward guidance on future rate hikes. Euribor futures have fully priced in a quarter-point hike to 3.25% at the ECB's next policy meeting and the possibility of another.
Markets are also back to overwhelmingly pricing in another 25 basis point hike from the U.S. Federal Reserve at its meeting next week, though there is a 20% chance of the Fed pausing instead.
Two-year Treasury yields continued to climb on Friday, rising 8 basis points to 4.2137% and pulling away from a six-month low of 3.7200% touched earlier this week. Yields were, however, headed for the steepest weekly decline since February 2020 when markets were thrown into chaos by COVID-19 fear.
Ten-year yields were steady at 3.5789% on Friday and were set for a weekly decline of 11 basis points.
The U.S. dollar and Japanese yen reversed some of their safe-harbour flows. The dollar index hovered at 104.38, after easing 0.3% overnight, while the yen pulled back from a one-month high to 133.47 per dollar.
The euro steadied at $1.0615, after having received a boost from the ECB's half-point hike overnight.
"The past week has provided an unwelcome reminder of the inherent fragility of banking systems," said analysts at Capital Economics in a note to client.
"There is still a great deal of uncertainty. The key question is whether this episode proves another relatively brief period of volatility that soon dies down, or the first tremors of a major banking crisis. At this stage, the answer is unknowable."
Underscoring the scale of stress in the financial system, data showed that banks sought record amounts of emergency liquidity from the Federal Reserve over recent days, smashing the prior record set during the global financial crisis.
Oil prices slipped on Friday but were headed for a 10% fall for the week. U.S. crude eased 0.3% at $68.15 a barrel, while Brent crude also skidded 0.3% at $74.5 per barrel.
Gold was slightly higher. Spot gold was traded at $1920.69 per ounce, heading for a weekly gain of 2.8%.
Source: Reuters