About 70% of Vietnam population to get COVID-19 vaccinated by 1Q 2022
Xuan Thinh
Saturday |

07/10/2021 20:33
---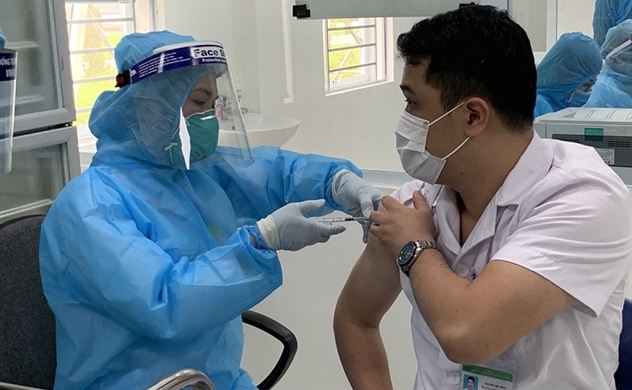 Photo: nhandan.vn
Vietnamese Government plans to vaccinate over 70% of the nation's population by the end of first quarter next year, Ministry of Health said in a statement on its website.
By the end of this year, at least half of the nation's 18 and older will be vaccinated against the virus.
Vietnam, which has reported more than 24,000 local infections caused by the delta variant since late April, will begin its mass COVID-19 vaccination drive this month through April 2022, Health Minister Nguyen Thanh Long was cited in the statement.
The has secured pledges of 105 million vaccine doses. The ministry said it will initially prioritize vaccinations for provinces and cities with virus outbreaks, key economic zones, areas with multiple industrial parks and border regions.
In related development, on Saturday, Deputy Minister of Health Nguyen Truong Son has made a forecast that the country could have additional 10,000 infections during the next five days since the number of local COVID-19 cases has reached over 1,000 daily.
According to the estimated scenario in the next 15 days, with 1,600 cases/day, the city needs 2 million quick test kits and nearly 3 million Realtime RT-PCR test kits.
Hot news of the day