A Japanese coronavirus patient found in a flight transiting Tan Son Nhat Airport
Bich Phuong
Wednesday |

03/04/2020 20:25
---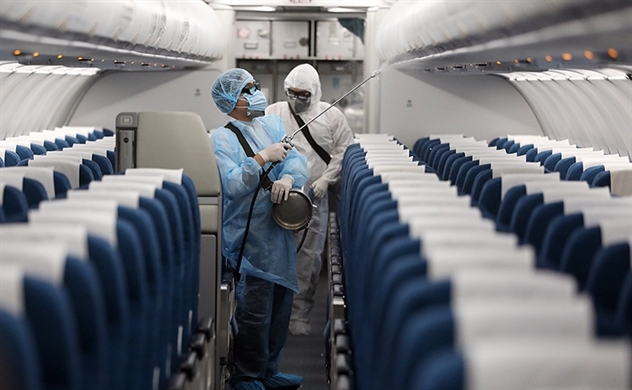 Airport staff members are disinfecting a Vietnam Airlines' plane. Photo: Ngoc Thanh / VnExpress
A Japanese national with coronavirus was found in a Vietnam Airlines' flight to Ho Chi Minh City from Siem Reap, Cambodia on Tuesday, Ministry of Health said in a report.
Passengers from the VN814 flight from Cambodia's Siem Reap to Ho Chi Minh City on March 3, crew members, and airport staff, officials who had close contact with the patient have been quarantined, ministry said.
The Japanese passenger, who sat on seat 33D on the flight,  transited Ho Chi Minh City from Siem Reap, before boarding flight VN340 to Nagoya, Japan. Health officials have not revealed the identity of the patient.
The traveller showed fever and tested positive with the virus upon landing at Nagoya airport.
Some 51 passengers entering Vietnam, including a baby and the entire crew, were put under quarantine in ​​Ho Chi Minh City. Other 22 transiting passengers who are Japanese were also quarantined. The aircraft was also disinfected.
Health officials are also tracing five passengers in VN814 flight who immigrated to Ho Chi Minh City, Tuoi Tre newspaper cited information from Ho Chi Minh City Center for Disease Control.
VnExpress cited the center's director Nguyen Tri Dung as saying six people immigrated  to the city, including a Vietnamese citizen, three French nationals, an Australian, and a Philipino.
Tan Son Nhat International Airport quarantined 2 security officials and 6 staff members in Class C Business room. A ground service employee was also quarantined.
* Update number of passengers immigrating to the city in sixth paragraph. 
Related stories:
► Vietnam carrier Vietjet to halt flights to South Korea over coronavirus
► Vietnam suspends granting new work permits to foreigners from coronavirus-hit areas
► Vietnam Airlines to suspend flights between Vietnam and South Korea since March 5
► Vietnam announces $1.16bln stimulus package to help virus-hit firms