3 new-generation FTAs make significant contributions to Vietnam's exports
Thanh Truc
Monday |

01/30/2023 13:58
---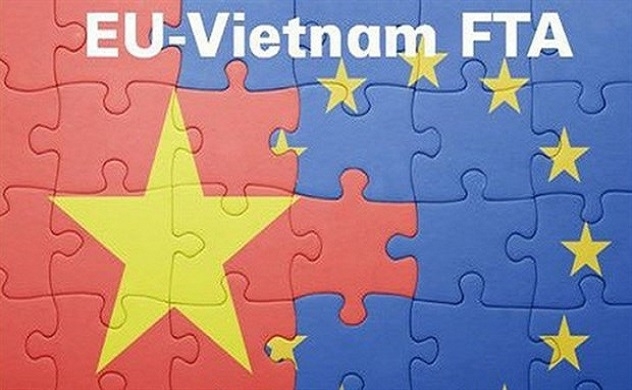 Photo: vneconomy.vn/
Three new-generation agreements, including EVFTA, CPTPP, and RCEP, are projected to make significant contributions to import and export, which play an important role in the Vietnamese economy.
The European Union–Vietnam Free Trade Agreement (EVFTA, effective August 1, 2020) was signed by Vietnam with 27 EU member nations, allowing Vietnamese goods to enter deeper into the EU market due to the EU's considerable consumer power.
Many Vietnamese agricultural goods now have new export potential thanks to EVFTA. Some Vietnamese products that were never exported to the EU due to technical barriers were able to enter this market, including rice, rattan products, and carpets, which increased by more than 50%, ceramic and porcelain products, which increased by more than 25%, and vegetables and fruits, which increased by more than 15%.
The Comprehensive and Progressive Agreement for Trans-Pacific Partnership (CPTPP) is Vietnam's first high-standard, new-generation free trade agreement (effective in Vietnam from January 14, 2019).
The CPTPP includes 11 countries: Australia, Brunei, Canada, Chile, Japan, Malaysia, Mexico, New Zealand, Peru, Singapore, and Vietnam. The deal has enabled Vietnamese businesses to join a significant export market. Unlike many previous agreements, the process of changing, supplementing, and developing new domestic legal regulations to guarantee consistency with commitments is the most essential effort in the implementation of this Agreement.
According to data, Vietnam's export turnover to this market reached $45.7 billion in 2021, increasing 18.1% from 2020. In the first ten months of 2022, export turnover to CPTPP nations reached $45 billion, a 22.1% increase over the same time in 2021.
The Regional Comprehensive Economic Partnership (RCEP) deal, signed in 2020 by ASEAN and five partner nations (Australia, New Zealand, China, Japan, and South Korea), is the largest and most comprehensive accord in the world, covering 30% of global GDP. The RCEP builds on the promises made in prior ASEAN agreements with the aforementioned member nations (ASEAN+6).
Meanwhile, the RCEP's origin regulations may encourage the import of intermediate products into Vietnam, particularly from China, posing challenges to the development of supporting sectors and the integration of Vietnamese firms into the supply chain.
Source: Mekong ASEAN
Same category news