Will the market improve with many new accounts?
Vu Hoai
Friday |

06/23/2023 15:59
---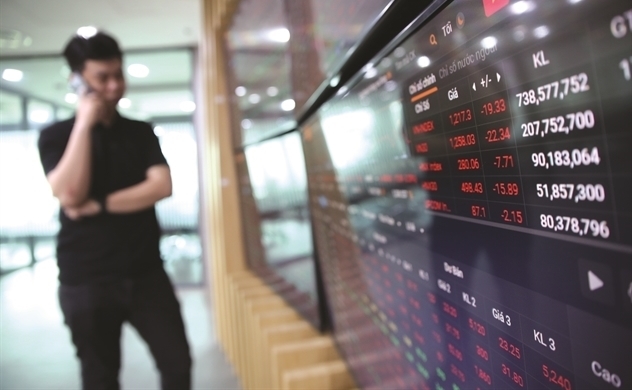 New accounts opened in May is an encouraging figure compared to the recent months. Photo: T.L
More than 100,000 new securities accounts were opened, market liquidity increased, and some sessions reached the billion USD level. The new wave of investors is back?
At the end of May 2023, the market had more than 7.12 million accounts of domestic investors, of which mainly individual investors. In May alone, domestic individual investors opened more than 104,600 new accounts, the highest level in the past 9 months and more than 4.6 times higher than in April 2023, according to data from the Securities Depository Center.
Old money, new money
Liquidity has improved as securities accounts increased. On HOSE alone, multi-session matching deals were worth VND18-19 trillion, close to a billion USD like the first trading session of June.
Answering the question "Where does billion US dollars liquidity come from?", Mr. Bui Van Huy, Regional Director, DSC Securities, said that the new account opened in May is an encouraging figure compared to that of months ago. In April, the number of new accounts opened "bottomed out", with only about 23,000 accounts. This largely comes from the fact that when the market presents more opportunities, investors also more or less come back to look for opportunities. Securities companies also have many preferential policies on fees and interest to stimulate investors in the context of a gloomy market.
"According to my observation, investors are still mainly old investors, opening new ones due to moving/opening more in securities companies, not necessarily new money as many people expect. Especially, the expectation that there will be a shift from savings channel to securities channel is still limited," said Mr. Huy.
Also from this expert's point of view, the increased liquidity in no small part comes from the fact that investors accept higher risks and trade more through securities warehouses. This is a very popular form for investors to surf in recent times, with a large loan portfolio and high leverage ratio. This is also a double-edged sword for investors, if used correctly will be a way to make quick profits. In addition, the margin is also a source of liquidity increase, but the margin increase is not as large as 30-40% as many recent predictions.
From a different perspective, Mr. Nguyen Minh Hoang, Director of Analysis, Nhat Viet Securities Company, said that there are signs of new cash flow and liquidity starting to gradually increase from VND15,500 billion, VND16,000 billion, VND18,000 billion, and most recently more than VND21,500 billion.
Expectations for a higher price
It can be said that last May was quite a positive month for the stock market when the VN-Index increased by more than 2.7% with the alternating movement of cash flow, mainly in the group of capitalization stocks. medium and small. The fact that the VN-Index successfully surpassed important resistance around 1,080 points and broke out of MA200 with improved liquidity has been highly appreciated by many investors and placed their expectations on a long-rising wave.
"Perhaps the joy of the market makes people forget that the economy is very weak," said Mr. Huy. In fact, in Asia, Vietnam is one of the few countries to see PMI continue to decline, while other countries in the region have positive data in May.
Markets anticipate it. The economy rebounded in the third and fourth quarters, but the global economy is still sluggish, so the recovery may have to wait until next year. Mr. Huy stated that the current anticipation is premature.
Positively, many industrial groups' earnings are expected to have passed through the low-lying area and may remain strong in the coming quarters. Rong Viet Securities Company (VDSC) believes that the tale of recovery from the profit valley will be of interest as firms approach the last month of the second quarter, given lackluster economic growth in the first quarter.
With the industrial output index and PMI not positive, we do not expect an unexpected breakthrough in profit growth in the second quarter of the business but feel that companies got through the low-lying area in the first quarter without a problem. "If the profit is still positive, the second quarter may continue to be better than average, typically in some industry groups like electricity, banking, textiles, oil and gas, and aviation," VDSC said.
Same category news