VN-Index dips below 1,000 points
Dai Le
Monday |

10/24/2022 14:04
---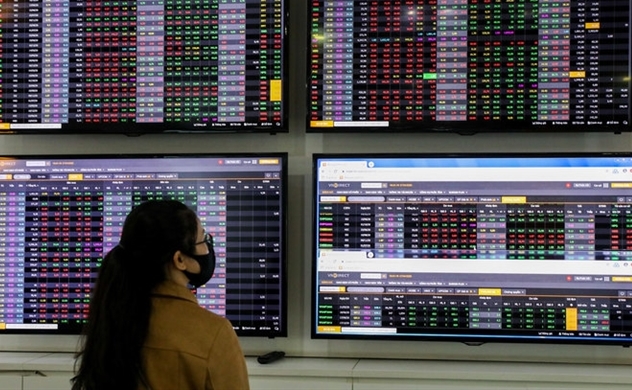 An investor looks at stock prices on the screens at a brokerage in Ho Chi Minh City. Photo by VnExpress/Quynh Tran
Vietnam's benchmark VN-Index plunged 2.29% to 996.45 points Monday morning, lowest in 23 months.
It closed the morning session 23.4 points lower in its fourth losing session in a row, having fallen 38.6 points Friday.
The VN30 basket, comprising the 30 largest capped stocks, saw 28 tickers in the red.
VRE of retail real estate arm Vincom Retail plunged the deepest with a 6.5% decline, followed by STB of Ho Chi Minh City-based lender Sacombank, down 6.3%.
GVR of Vietnam Rubber Group dipped 6% while MWG of electronics retail chain Mobile World lost 5.9%.
Other losers included TCB of the largest private lender Techcombank, TPB of private TPBank, and VIB of Vietnam International Commercial Bank, losing by 5.2-5.7%.
Only two blue chips gained: SAB of brewer Sabeco rose 3.4% and GAS of state-owned Petrovietnam Gas went up 0.6%.
The HNX-Index for stocks on the Hanoi Stock Exchange, home to mid and small caps, closed 2.17% lower while the UPCoM-Index for the Unlisted Public Companies Market fell 1.39%.
On October 21, 2022, there were 42 businesses with a capitalization of over $1 billion (more than VND 24,560 billion), according to data from all three exchanges, HoSE, HNX, and UPCom. 
This is a decrease of 22 businesses compared to the beginning of April and a decrease of 17 businesses compared to the beginning of 2022.
The HNX was no longer represented on this list after the last representative, KSFinance (KSF), left the group. 
Other major names on the decreased list of the billion-dollar market capitalization milestone include Phu My Fertilizer (DPM), Khang Dien (KDH), Vietnam Maritime Commercial Joint Stock Bank (MSB), PV Power (POV), Vefac (VEF).
Source: VnExpress
Same category news