Vietnam's beer consumption expected to fall due to drink-driving law
Luu Van Dat
Wednesday |

01/08/2020 16:02
---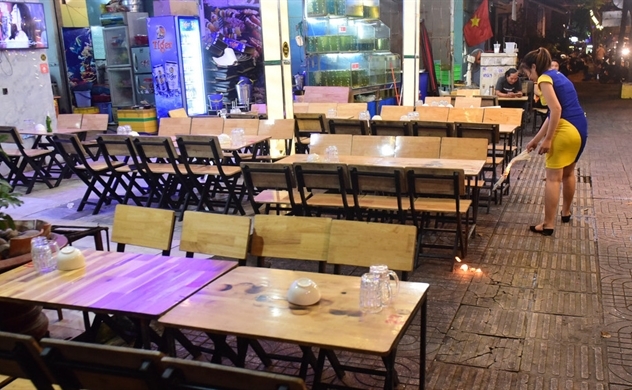 Owner of a restaurant on Pham Van Dong Street burns votive papers to attract more guests. Photo Tuoi Tre / Quang Dinh
Vietnam, one of the world's hottest and fast-growing beer markets is expected to face slower business growth to about 6-7% due to the drink-driving law that has just been put into effect.
Last year, the Vietnam's market consumed 4.6 billion liters beer, 10% year-on-year growth. However, this year the growth rate could reduce to 6-7%, SSI Securities company said in a report.
The institution believes that the law against alcohol harm will affect the consumption power in the market which attracts attention from any beer makers in the world.  
"Beer consumption in 2020 will not achieve double-digit growth as in 2019", the report said. Small beer firms will be more vulnerable to the law than bigger beer makers including Sabeco and Heineken.
The government will strengthen community education about the negative impact of alcohol. This will impact overall industry sales, smaller brands will be affected.
Research firm Euromonitor sees beer consumption in Vietnam to reach 4.9 billion liters in 2021, equivalent to an average annual growth of 5.5% and the standard and premium beer production is expected to increase by an average of 5.5% and 7% annually. Imported premium products are estimated to reach the highest growth rate of 10.3%.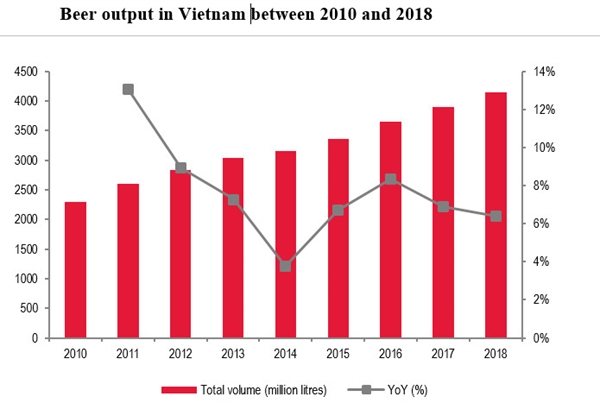 Source: Euromonitor
The securities company expects Sabeco's revenue and profit to increase 10% and 12% to VND44.4 trillion ($1.9 billion) and VND6.1 trillion ($261.7 million) respectively in 2020.  
A week after the law takes effect, Sabeco has lost a total of VND4,000 each share on the exchange. With the ownership of 53.59%, Thaibev has lost more than VND1,300 billion ($55.7 million).
During the first five trading days of this year, Habeco shares witnessed a fall of VND600 each.
State-owned Habeco will likely to divest this year. Carlsberg is likely to be the buyer, said the report. However, the securities company did not expect a high valuation due to the recent poor performance of the enterprises.
Several restaurants in Ho Chi Minh City received fewer guests when the law took effect since January 1, Tuoi Tre newspaper says.
Several restaurants District 7, Thu Duc, Binh Thanh, Go Vap, Ho Chi Minh City received fewer guests. Huynh Thi Thuy, owner of a restaurant on Pham Van Dong Street, told the paper that number of customers has decreased to 70% and the beer sale decreased significantly.
► ThaiBev indirectly acquires Lam Dong Beer, holding 52.91% stake
► 'Golden Goose' Sabeco seen as Thaibev's savior for Singapore IPO
Source: Tuoi Tre