Vietnam stock posts fifth consecutive gaining session
Xuan Thinh
Monday |

05/11/2020 16:25
---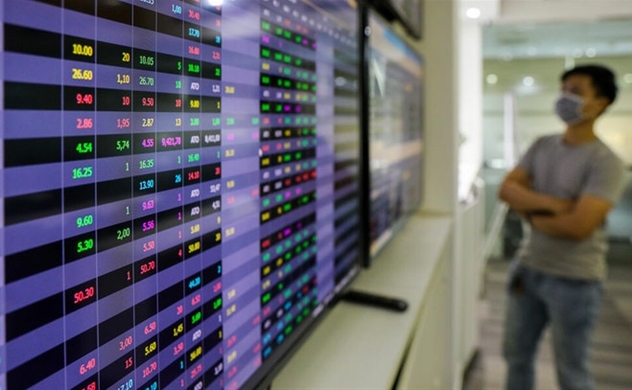 An investor looks at stock prices on the screens at a brokerage in Ho Chi Minh City. Photo by VnExpress/Quynh Tran.
The VN-Index added nearly 15 points to 828.33 points on the first trading day of the week, marking the fifth consecutive gaining session since the government called to restart the economy.
Vietnam's stock market recovered with a total of 66 points during the five surging trading days, according to exchange data. Compared to the beginning of the year, when the coronavirus was not reported, the index decreased by 14.3%.
246 stocks gained, 55 unchanged, and 119 lost on the Ho Chi Minh Stock Exchange, on which the VN-Index is based.
Shares of Techcombank (TCB) and VPBank (VPB) led the market. In the previous session, TCB and VPB gained to the limit. In this session, TCB continued to go to the ceiling, while VPB surged 5.7%.
Shares of other banks include Vietcombank, BIDV, Vietinbank, Military Bank also recorded green with gains of about 1% to 2%.
For manufacturing, Vinamilk, Masan, and Hoa Phat Group increased strongly, respectively 3.33%, 3.44%, and 2.35%. Sabeco share increased modestly by 0.64%, while Masan Consumer's share stood still at the reference price.
Energy stocks also rebounded strongly with the leading of GAS gaining nearly 4.9%. PVD even increased to the limit.
Total transaction volume fell 11 percent over the previous session, reaching VND6.24 trillion ($269 million).
► Stock rallies for a fourth consecutive day as Vietnam restarts the economy
Same category news


Hot news of the day