Vietnam orders recall of certain Kinder products over salmonella concerns
Vinh Tho - N. An / Tuoi Tre News
Monday |

04/18/2022 13:11
---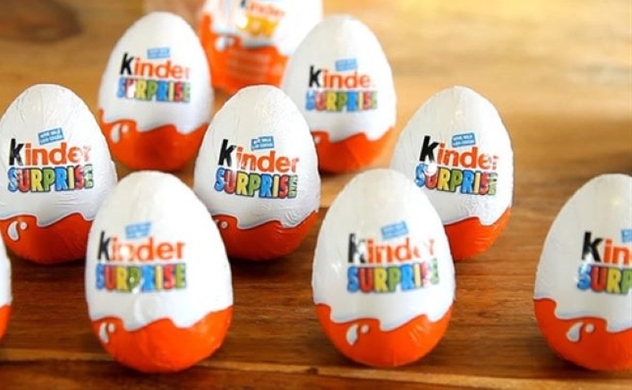 This image shows Kinder Surprise chocolate egg products having been recalled in seven European countries due to salmonella contamination. Photo: metro.co.uk
Vietnam's Ministry of Industry and Trade has ordered a recall of certain imported Kinder chocolate egg products, made by Italian confectionery group Ferrero, from the market over suspected salmonella infection.
The ministry's Domestic Market Department has recently issued a dispatch requiring supermarkets, shops, importers and traders of Kinder products, manufactured by Ferrero in Belgium, to cease trading of a number of such products and recall them, a ministry's representative told Tuoi Tre (Youth) newspaper.
In the document, delivered to the Association of Vietnam Retailers and other agencies concerned, the department said that imported Kinder products might potentially be contaminated with salmonella.
Kinder products subject to recall include Kinder Surprise 20g and Kinder Surprise 20g x3 packs (expiry dates up to and including October 7, 2022); and Kinder Surprise 100g, Kinder Mini Eggs 75g, Kinder Egg Hunt Kit 150g, and Kinder Schokobons 200g (all with best before dates between April 20 and August 21, 2022).
The move came after Ferrero recalled such Kinder products in the UK market as a precautionary measure due to reported cases of salmonella poisoning across the country.  
On April 5, Ferrero announced that the voluntary recall was underway in seven European countries due to suspicions that the products were linked to dozens of salmonella infections. 
In Vietnam, it is Kinder Joy Egg originated from India, not Kinder Surprise or other Kinder products made by Ferrero, that has been put up for sale in large quantities at supermarkets and other retail stores, according to the department.
No cases of salmonella infection caused by Kinder products have been detected in Vietnam so far, a representative of the ministry's Department of Science and Technology has recently confirmed with Tuoi Tre.
Meanwhile, a total of 150 salmonella cases linked to Kinder chocolate have been detected in nine European countries, Straits Times cited two specialist European agencies as reporting on Tuesday.
"Most cases are children under 10 years of age, with many being hospitalized," the European Center for Disease Prevention and Control and the European Food Assessment Security said in a joint statement. 
Salmonella is a group of bacteria that can cause gastrointestinal illness and fever called salmonellosis, which leads to diarrhea, fever, and abdominal cramps in most infection cases, according to the United States Food and Drug Administration (FDA).   
In severe cases of salmonellosis, patients may have high fever, aches, headaches, lethargy, a rash, blood in the urine or stool, and it may become fatal in some circumstances, the FDA warned. 
Source: tuoitrenews
Latest news