Vietnam ministry to punish petrol stations for hoarding fuel
Khanh Minh
Thursday |

05/28/2020 13:49
---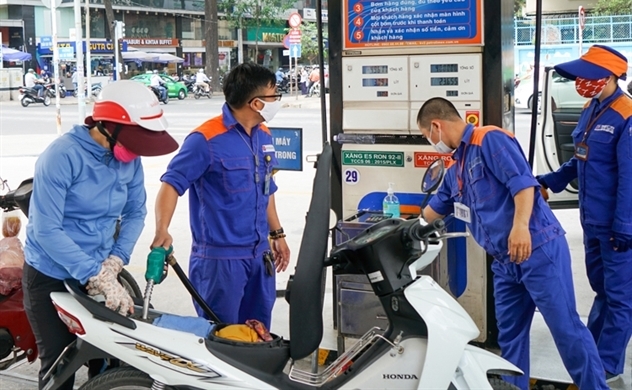 Illustrative. Photo: congthuong.vn
Minister of Industry and Trade Tran Tuan Anh has ordered relevant agencies to strengthen inspection and strictly fine petroleum stations that refuse to sell fuel or increase prices.
The move came after reports that petrol stations in several localities decided to shutdown though they still have fuel in storage. It is believed that the stations have been trying to hoard petroleum waiting for higher prices.
The trade ministry officials have fined a petrol station in Hanoi for refusing to sell gasoline customers. The station's owner reported that there was no fuel in storage, but inspection showed that the station had 20,000 liters of gasoline in the tank.
The same situation with medical face masks when the COVID-19 pandemic happened in Vietnam, several petrol stations refused to sell products at low prices. The market management officials have been inspecting and verifying the suspension of stations in Ho Chi Minh City, Hanoi, Hai Phong, Ha Nam, and Can Tho, Bac Giang, Gia Lai, Hai Duong, Dak Lak.
Fuel demand has increased in Vietnam, where the COVID-19 has been controlled well. The country has started to boost production, business, transport, leading to an increase in fuel prices. Meanwhile, a number of domestic and international refineries cut production capacity, taking advantage of the epidemic to conduct facility maintenance.
The trade ministry is asking localities and relevant agencies to ensure enough supply of petroleum for the domestic market and to closely inspect supply, demand and prices of petroleum products, contributing to the inflation target placed by the government.
In Ho Chi Minh City, some fuel stations had to close for many hours because they could not receive fuel on May 26, Sai Gon Giai Phong Newspaper cited a representative of the city's Department of Industry and Trade, as saying fuel supply in the city remains plentiful.
The city currently has 545 fuel stations, 15 fuel wholesalers, 43 fuel distributors, one trader as general agent, and 16 retail agents. These units are still operating normally with monthly consumption of 200,000 cubic meters or 6,500 cubic meters per day.

Regarding the closure of many fuel enterprises in Dak Lak Province in the past days, Mai Manh Toan, Director of the provincial Market Surveillance Agency, said that because they ran out of fuel supply.
Le Van Quy, the owner of Quy Dieu Private Company in Krong Nang District in Dak Lak Province, his company has three fuel stations in Ea Toh, Dlie Ya communes, and Krong Nang Town and two of them had to temporarily close.

'Currently, the State sets the selling price of A95 gasoline at VND12,470 ($0.53) per liter, and that of oil at VND10,040 ($0.43) per liter. Meanwhile, the fuel distributor announces that the price of delivered A95 gasoline is VND12,570 ($0.53) per liter, and that of oil is VND10,090 ($0.43) per liter. Although buying price is higher than selling price, the company has to make up for losses, in the past days, the company has contacted its distributor to request fuel supply many times, the distributor always said that they were out of stock,' said Quy.
 
Same category news


Hot news of the day