Strange dance of gold
Minh Duc
Tuesday |

11/07/2023 14:05
---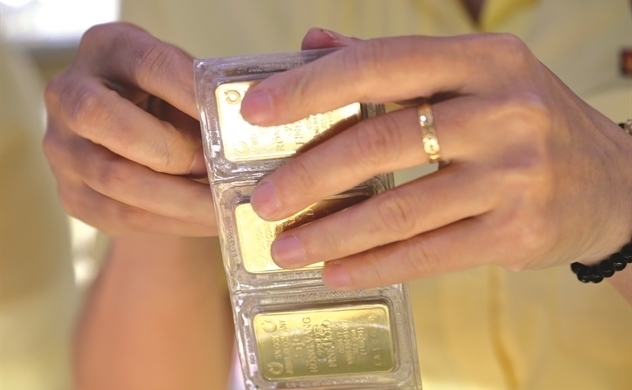 Whenever Vietnam's gold price increases rapidly and widens the gap with world gold prices, it often leads to pressure on the exchange rate. Photo: Quy Hoa.
The domestic gold market fluctuates as it is easily influenced by customer psychology regarding the scarcity of SJC brand gold bars.
The Middle East conflict is causing global gold prices to reach a 3-month high, with forecasts suggesting fluctuations around $1,900/ounce until the conflict subsides. This raises questions about the volatility of the gold market.
Researchers at the Chicago FED have identified three main factors driving gold prices since 1971: a hedge against inflation, a defense against economic disasters, and a reflection of interest rates.
Gold prices effectively "fend off" inflation and rising prices during gloomy economic times, with rising inflation being the biggest driver in the 1970s, 1980s, and 1990s.
However, the impact of interest rates on gold prices was even greater, as researchers show, from 2001 onwards. Long-term real interest rates and economic growth are the factors that have a strong impact on this precious metals market.
This is the reason why gold prices in the past two years have almost not increased. Although gold prices seem to increase sharply at the beginning of 2021, inflation will increase when central banks in many countries print money massively and stimulate fiscal stimulus too aggressively.
In addition, the price situation is also affected by the prolonged conflict between Russia and Ukraine. In fact, even in this context, the meager return on gold investment over the past two years was only 3%.
In the Vietnamese market, gold prices also have notable fluctuations. First of all, we can track the developments in the gold market over the past decade. From 2001 to 2011, gold prices accelerated, reaching a peak of VND4.9 million/tael at the end of the period.
Gold prices have fallen from a peak of VND49 million/tael in 2017 to VND35 million/tael. Since 2016, they have increased, reaching a peak of VND74.5 million/tael in 2020. From September 2023, gold prices continued to rise, surpassing 71 million VND/tael in mid-October due to unstable global market developments. 
It also fluctuates with the world gold market, but the increase in domestic gold prices is also due to domestic supply and demand with "monopoly" management through Decree 24 for SJC brand gold.
This management method is the main reason why the domestic gold price in recent years has often been higher than the world price by over VND10 million/tael.
Gold Business Association expert Nguyen The Hung said that from 2014 until now, the State Bank has not brought more gold to the market. Meanwhile, the amount of SJC gold on the market is very small, because domestic brands use SJC gold bars to produce rings and jewelry or for export. Because the supply is reduced, whenever there is a fluctuation, the price of SJC gold bars is easily pushed up.

 Domestic gold prices are increasing due to low savings interest rates, a declining stock market, and a freezing real estate market. Central banks are shifting from tightening monetary policy to loosening to restore economic growth, leading to a downward trend in USD prices and increasing gold prices in USD.
In Vietnam, sharp increases in gold prices often pressure the exchange rate, causing difficulties for monetary policy administrators. To stabilize the gold and currency markets, many opinions suggest amending and supplementing Decree 24 to suit market reality. The State Bank will develop a report to the Prime Minister in response to these recommendations.
Associate Professor - Dr. Ngo Tri Long, former Director of the Price Market Research Institute, said that the domestic gold market has not been connected with the world for decades, leading to an imbalance in supply - demand, affecting the production and trading of gold jewelry and fine arts and the need to hold gold as a safe asset. Therefore, there needs to be adjustments to be transparent and consistent with market developments.
 
"In the long term, move towards eliminating the SJC gold monopoly and possibly giving some large enterprises the conditions to produce gold bars to increase supply and narrow the gap with world gold prices. Gold import and export should also be facilitated for businesses and controlled by quotas," commented Mr. Huynh Trung Khanh, Senior Advisor to the World Gold Council in Singapore, Indonesia, Thailand and Vietnam.