SJC gold price climbs to new peak of VND50.35 million per tael
VOV
Tuesday |

07/07/2020 13:28
---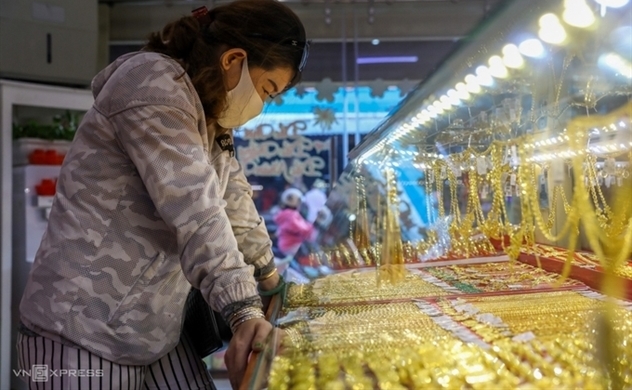 Photo: VnExpress
The domestic SJC gold price surpassed the VND50 million ($2,156) per tael mark for the first time on July 7, reaching its highest level since August 2011 in the process.
The latest peak comes following the Saigon Gold, Silver and Gemstone joint stock company quoting its SJC gold price for the morning at VND49.90 million per tael for selling and VND50.35 million per tael for buying, representing rises of VND260,000 and VND330,000, respectively, from prices seen the previous day.
Elsewhere, the DOJI Gold and Gems Group remained the same with purchasing prices between VND49.7 and VND49.9 million per tael, marking no change against transactions on July 6.
The fluctuation in domestic gold prices is attributable to the impact of the global gold market, with the evening of July 6 seeing gold prices sharply rise by $13.5 to $1,787.1 per ounce.
With the number of novel coronavirus cases continuing to rise globally, financiers are increasingly seeing gold as a safe investment, the main factor behind the sharp increase in the price of the precious metal.
In terms of the forex market, the Joint Stock Commercial Bank for Foreign Trade of Vietnam (Vietcombank) moved to list the exchange rate at VND23,070 per $1 for buying and VND23,280 per $1 for selling on July 7, both recording drops of VND10 per US$1 compared to the previous day.
Source: VOV
Latest news
Reuters | Alexandra Alper, Humeyra Pamuk