Petrol prices in Vietnam plummeted for the eighth time of this year
Xuan Thinh
Tuesday |

04/28/2020 15:26
---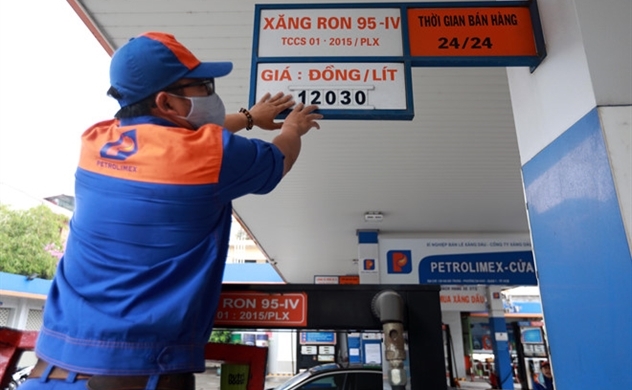 Petrol prices in Vietnam plummeted for the eighth time of this year. Photo: Ngoc Duong | Thanh Nien
The retail prices of petrol in Vietnam plummeted from 3pm of April 28 making it the eighth consecutive reduction since the beginning of this year.
Following the latest adjustment by the Ministry of Industry and Trade and the Ministry of Finance, the price of biofuel E5 RON92 fell by VND401 to VND10,942 ($0.46) per liter at the highest, and that of RON95-III was also down by VND308 to VND11,631 ($0.49) per liter.
Meanwhile, the prices of diesel 0.05S and kerosene reduced to VND9,941 ($0.42) per liter and VND7,965 per liter, down VND882 and VND674 per liter, respectively.
Mazut 180CST 3.5S is sold at no more than VND8,670 per kilogramme, down VND657 per kilogramme.
The two ministries review fuel prices every 15 days to adjust domestic prices in accordance with fluctuations in the global market.
At this period of adjustment, the ministries decided to keep the deduction for the stabilization fund at VND 400 per liter for gasoline E5 RON92, and VND 1,400 a liter for gasoline RON95.
According to the announcement, the world average gasoline price in the 15 days prior to the general administration tends to decrease slightly.
In particular, the price of RON 92 gasoline used for mixing E5 RON 92 gasoline decreased from $2,166 to $18,477 per barrel. RON 95 gasoline decreased by $1,532 to $19,735 per barrel. Petroleum and diesel products also dropped by $5-6 a barrel over the previous period.
Same category news


Hot news of the day