OCB to sell 882,341 shares to Aozora Bank via private placement
Bich Phuong
Thursday |

01/13/2022 14:41
---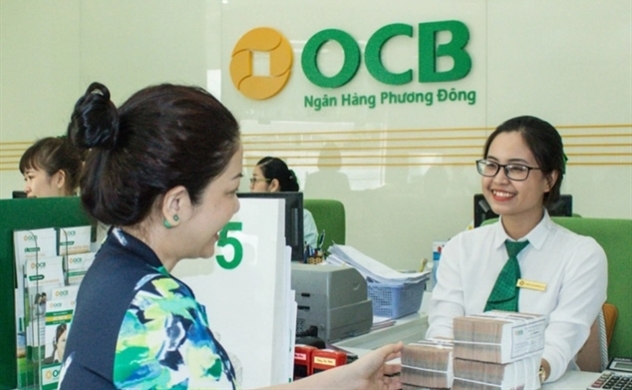 Photo: OCB
Orient Commercial Joint Stock Bank (HoSE: OCB) has approved the plan to increase charter capital by issuing ESOP shares and shares to Aozora Bank via private placement.
The lender will issue 5 million ESOP shares with the offering price of VND10,000 per share, 61% lower than OCB's market price on the stock market.
The ESOP shares will be restricted to transfer within 4 years from the issuance date, after each year, 25% will be transferred.
It also plans to launch a private offering of 882,341 shares to Aozora Bank with the asking price of VND 25,571/share. This number of shares will be restricted to transfer within 1 year from the end of the issuance.
The time for the share issuance is expected in the first quarter of 2022, after the bank gets approval from the State Bank and State Securities Commission.
The money raised from the two issuances, at more than VND72 billion, will be used to supplement business capital, investment and lending. OCB's charter capital will increase to VND 13,757 billion from VND 13,698 billion.
In 2021, OCB issued more than 273 million shares at the rate of 25% (shareholders owning 100 shares will receive 25 new shares) to pay 2020 dividends to existing shareholders.
OCB's third quarter net interest income reached more than VND 1,354 billion, up 25% over the same period in 2020. Net profit from investment securities trading increased nearly 6 times to VND463 billion.
Net profit from services, foreign exchange trading, trading securities decreased by 39%, 73% and 34%, respectively, reaching VND118 billion, VND10.7 billion and VND30 billion, respectively.
Pre-tax profit in the third quarter reached more than VND1,107 billion, up 71% over the same period in 2020.
Accumulating 9 months, OCB recorded net interest income and pre-tax profit of VND 4,155 billion and VND 3,768 billion, respectively, up 23% and 50% compared to 9 months of 2020.
By the end of the third quarter, OCB's total assets reached more than VND 167,596 billion, up 10% compared to the beginning of the year.
OCB shares opened on January 12 at a price of 26,200 dong/share. Market capitalization is estimated at more than VND 35,800 billion.
Same category news