Nam A Bank to list more than 1 bln shares on HOSE
Khanh Minh
Friday |

08/25/2023 16:22
---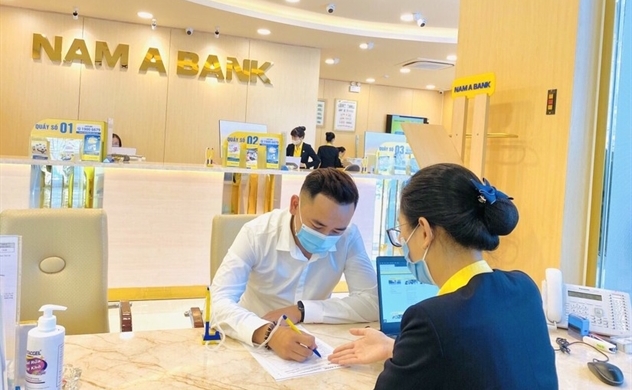 Photo: mekongasean.vn
The Board of Nam A Bank has approved a plan to list more than 1 billion shares on the Ho Chi Minh Stock Exchange in the third or fourth quarter of 2023.
The plan to list shares was given the green light by the general meeting of shareholders in 2022, but it was delayed to protect shareholders' interests in light of the unfavorable macroeconomic environment and erratic stock market movements.
On October 9, 2020, the lender's shares began trading on UPCoM at a reference price of VND 13,500 per share. NAB shares are now trading at about VND 12,500 per share at the start of the session on August 25, up 85% from the start of the year.
The bank's total assets exceeded VND 200,200 billion as of June 30, 2023 (up 12.74% from the start of the year), placing it in the top 20 banks in terms of total assets.
Capital raised from people and economic groups increased significantly to about VND 151,197 billion (up more than 16% from the start of the year, fulfilling 98% of the goal by 2023).
Outstanding loans to consumers increased in accordance with the SBV's credit growth limit, reaching more than VND 129,300 billion (up 8.1% from the start of the year, achieving approximately 98% of the target in 2023).
The State Bank has reduced operating interest rates four times this year due to bad debt and NIM decline. Nam A Bank's NPLs are slightly increasing but need attention due to macroeconomic issues. The government and the State Bank of Vietnam have issued solutions, such as Circular 02/2023/TT-NHNN, to support customers facing difficulties. Asset quality is expected to recover in the coming quarters.
Nam A Bank's NIM remains stable at 3.2%, thanks to optimizing asset structure and investment opportunities. Non-interest income growth is strong, with net profit from service activities reaching 241.6 billion dong, up 185% from last year.
Nam A Bank has exceeded State Bank regulations in safety indicators and liquidity, meeting Basel III criteria. 
The bank's capital adequacy ratio (CAR) reached 9.5%, the outstanding loans to deposits ratio reached 71.6%, the 30-day solvency ratio was 38.99%, and the short-term funds for medium- and long-term loans ratio was 22.58%. 
This growth contributed to Nam A Bank's pre-tax profit of VND 1524.8 billion in the first six months of 2023, completing 46% of the plan.
Same category news