Japan's largest cosmetics chain Matsumoto Kiyoshi to open first store in Vietnam
Bich Phuong
Monday |

12/16/2019 21:55
---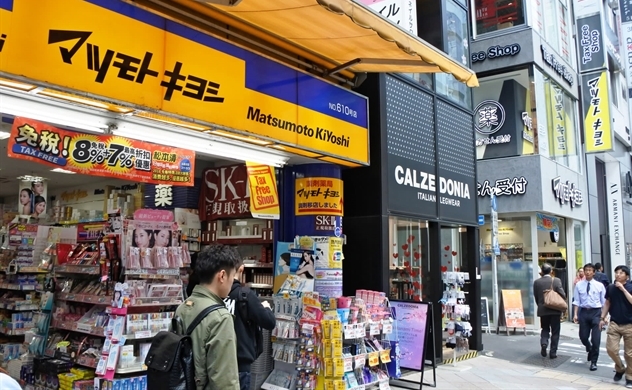 Photo: Nikkei Asian Review
Japan's largest cosmetics and drugstore chain Matsumoto Kiyoshi set to open first store in Vietnam late March.
After more than two years of studying behavior of Vietnamese consumers, who shopped at Matsumoto Kiyoshi stores in Japan, the retailer decided to enter the Southeast Asian market.
The information was heard during a signing ceremony on Monday between Vietnam's Lotus Food Group and Japan's Matsumoto Kiyoshi Holdings to set up the Matsumoto Kiyoshi Vietnam joint venture.
Accordingly, the joint venture to be established in February 2020 will have a registered capital of VND31.5 billion.
Matsumoto Kiyoshi holds 51% of the shares and Lotus Group holds 48.87%. The remaining 0.13% belongs to Le Van May, who will develop and operate the chain of branded pharmaceutical and cosmetic stores.
The cosmetics and drugstore chain is expected to meet Japanese standards in the next 3-5 years, with hundreds stores across the country.
Vietnam will be the third destination of the Japanese retailer after Thailand with 34 stores and Taiwan with 5 stores. The firm plans to open 10 to 15 stores in Vietnam in the next 3 to 5 years.
According to UK-based Mintel market intelligence agency, Vietnam's cosmetics market valued about $2.3 billion as of 2018, but mostly in traditional retail.

Furthermore, figures show that Vietnamese tourists have huge demand for Japan's cosmetics and dietary supplements while visiting Japan.

Japanese products currently account for 17 percent of foreign cosmetics' sales in Vietnam, following those from the Republic of Korea and Europe.
In Japan, Matsumoto Kiyoshi operates 1,654 stores specializing in beauty and health products. This is the largest pharmaceutical and cosmetic retail chain in Japan.
Established in 1932, Matsumoto Kiyoshi is a famous Japanese drugstore chain that boasts a massive selection of goods, including medicine, makeup, cosmetics, mouth hygiene products, supplements, among others.