Coronavirus fear seen to heavily affect Vietnamese businesses
Luu Van Dat
Tuesday |

02/04/2020 09:40
---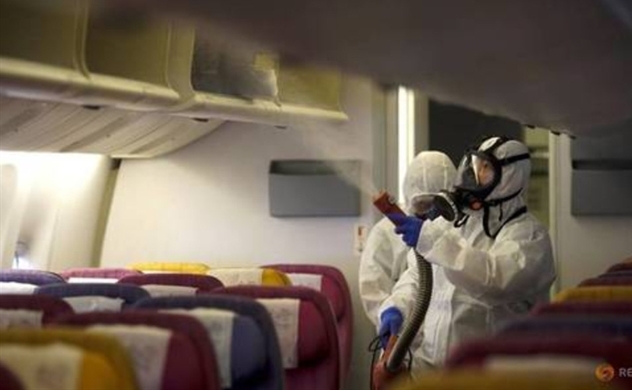 Aviation is among sectors receiving hardest hit from the spreading coronavirus. Photo: Reuters
Vietnam's economy is expected to undergo a hard time this year due to new coronavirus epidemic outbreak spreading globally.
Tourism, aviation, airport services, textiles, retail, beer, fisheries, agriculture ... are among sectors that are expected to be significantly affected by the new coronavirus that has killed 426 people as of February 4.
Tourism, aviation and airport services sectors will be directly affected by the epidemic since all airlines are negatively affected following the sharp decline in travel demand, especially when all flights between China and Vietnam have been halted, SSI Securities JSC said in a report assessing the impact of the coronavirus on industries.
Passengers from China accounted for about 40% of Vietnam's total passengers in 2019. Freight activities related to China will also be reduced due to lower demand from Chinese consumers and limited production.
The epidemic outbreak could affect logistics activities thus affecting sales, especially exports to China may continue to be delayed.
Textile industry does not receive a direct impact on the demand for garment products since most of domestic garment companies do not export to China, report says.
SSI believes that the demand for dairy products may not be affected by coronavirus. This will even increase. Dairy products are considered as a source of protein and convenient for consumption. Milk will be among essential items when consumers avoid public places and restaurants.
Beer industry could be hit by the pandemic. The demand for beer will fall since people avoid going out. Vietnam's beer sale has dropped 25% due to recent drunk-driving law.
However, some industries could benefit from the crisis such as pharmaceuticals, insurance, electricity.
For the pharmaceutical industry, SSI believes that pharmaceutical stocks will have positive movements thanks to market sentiment in the short term while life insurers are expected to benefit positively in the long term as the demand grows amid coronavirus fear.
The power sector is expected to benefit from the decline in crude oil prices as demand for crude oil from China may fall amid the pandemic.
Industries including automobile, industrial real estate, construction, information technology, steel, cement, fertilizers, water are expected to have no significant impact from the newly emerging pandemic.
► Coronavirus: Eighth infected case confirmed in Vietnam