Bubble tea wave is over, it's time for lemon tea chains: VietnamNet
Linh Ha
Saturday |

12/28/2019 03:02
---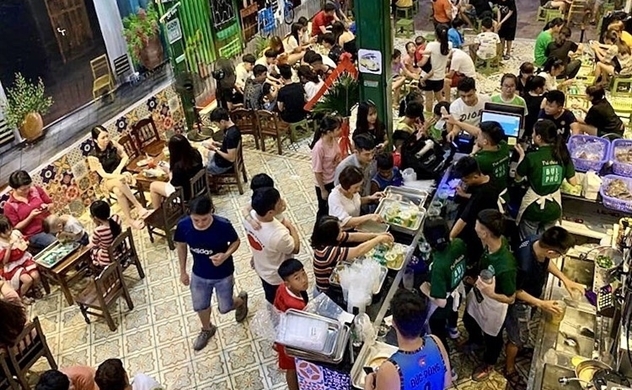 Photo: VietnamNet
As drinking bubble tea is no longer fashionable, the profit from bubble tea shops is on the decrease. Investors are rushing to open lemon tea shops instead.
Lemon tea shops have been mushrooming in the last several months. They are seen in close proximity to one another on some streets. Ta Quang Buu, Nguyen Van Huyen, Van Cao and O Cho Dua are now called lemon tea streets.
On a small section of street, 500 meters long on Cau Giay street, there are two shops, while another one is opening son. Each of the shops has a large area of up to 100 square meters.

On Ta Quang Buu street, there are three shops belonging to three different chains.

Analysts said investors had rushed to open lemon tea shops because of the attractive promised profits, 25-30 percent. Meanwhile, the initial investment rate for lemon tea shops is reasonable.
VnExpress quoted sources as reporting that the required investment rate for one lemon tea shop is between VND200 million and VND500 million, depending on the locations and the premises. The franchise fee is VND50-70 million.
If the franchise fee is zero dong, shops will have to pay 5-8 percent of total revenue to franchisers.

The investment rate proves to be much more reasonable compared with the investment for milk tea shops, estimated at several billion dong. The business field can bring the profit margin of 20-30 percent in case of stable operation.

Nguyen Huyen Dieu, the owner of a lemon tea shop on Xa Dan Street, said she can sell up to 2,000-3,000 glasses of lemon tea a day with revenue of up to VND15 million. If noting that the initial investment capital is VND450 million, Dieu would be able to take back the investment capital after 2-3 months.

Nguyen Thi Ngan, the owner of a shop on Tran Dai Nghia street, said the days from Thursday to weekend are peak days with revenue of VND8-12 million a day.

Lemon tea shops mostly target students and low income earners, so they set prices for drinks at reasonable levels, VND10,000-50,000. In order to increase revenue, lemon tea shops sell coffee, yogurt and some types of snacks as well.

According to Ngan, retail premises determine 60 percent of the success of business. The shops must be large enough to accommodate customers on rainy and cold days. On the days with good weather, customers would like sit in the open air, so the pavements need to be large.

The weather also determines the revenue of the shops. The revenue may be 20-30 percent lower on rainy days.
Source: VietnamNet